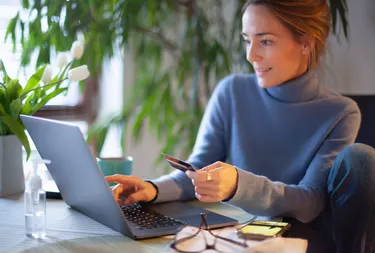 The ADP Aline card, now known as the Wisely card, is a way for your employer to provide direct deposit services on payday. This specialized card is not a bank account or a credit card and it involves no credit check. Instead, it is a prepaid card that your employer reloads for you each payday. There are several ways to check your ADP Aline or Wisely card balance by phone, online and more.
ADP Aline and Wisely Cards
The popular ADP Aline card has undergone a name change and is now known as the Wisely card. While most ADP cards are issued in contract with your employer, some cards are available for individuals to use apart from any employer-sponsored program.
ADP cards are popular among institutions of higher education. The University of California Berkeley reports that their Aline cards transitioned into Wisely cards in the second half of 2020. They advised employees to continue using their Aline Cards until they used the entire balance on the card.
Wisely and Aline Card Balance Online
Before you check your Wisely or Aline card balance online, it is important to ensure that your online account is set up and your card is activated. If you encounter technical difficulties with either of these things in regards to your Aline card, you can call ADP Cardholder Services at 1-877-237-4321. For your Wisely card, call 1-877-431-5860.
Once your account is set up, you will be able to log in through the ADP website for the Aline card or the Wisely website for the Wisely card. Your account balance will be shown immediately after login. You will also be able to view recent and pending transactions.
In the move from the Aline card to the Wisely card, ADP made some significant improvements, including introducing a streamlined app that can help you track your balance and spending. The app is available on both Google's PlayStore and Apple's App Store. Simply download the app to your smart device and log in using your Wisely website login.
Once you log in to the app, if you have more than one Wisely card, you will be able to choose which card balance you want to see. On the main balance page, you'll see your account balance, but there is also a lot of other helpful information displayed to help you reach your goals. You can see whether your spending is trending up or down, as compared with previous months. Individual transactions are also available, and you'll have access to features like setting aside money in a rainy day fund.
If you are having trouble accessing your ADP Aline or Wisely card balance online or through the app, you can always contact customer care to check on your balance, as well as resolve any account difficulties you are experiencing. If you have one of the old Aline cards, the customer care number is 1-877-237-4321. With the newer Wisely cards, you can contact their call center at 1-877-431-5860.
When you call customer care, be prepared to answer security questions to help confirm your identity. If there has been fraudulent activity on your card, they can help you identify it, as well as issue a new card so that you can easily access and check on your ADP card funds.
ADP Card: Cash Machine Balance
It is simple to check your ADP Aline or Wisely card balance by visiting an in-network ATM. The Wisely website provides a search function so that you can locate fee-free ATMs near you. Simply enter your location into the search field and then visit one of the locations listed. Most ATMs will allow you to check your balance without withdrawing money. Simply insert your card, enter your PIN and then select the "Balance" option. The ATM will print a receipt showing your current ADP card balance.