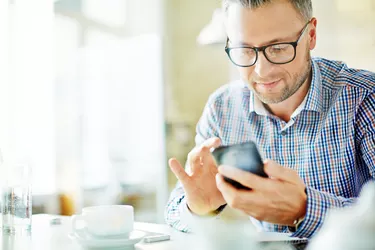 H&R Block makes it a cinch for their customers to obtain the company's popular Emerald Prepaid Mastercard®. This card can be loaded with your tax refund or loan proceeds and is used anywhere Mastercard is accepted just like any debit card. It's important for cardholders to keep track of the balance on the card so they know how much to spend when shopping in stores and online. Fortunately, checking your H&R Block Emerald Card balance can be done in a few seconds online.
Use H&R Block's Website
Visit H&R Block's Emerald Card login page and click the green "Emerald Card Login" button. If you've set up your account already, insert your username and password in the designated boxes and click "Sign in." If you don't have an account yet, click "Create Account" to choose a username and password. After signing in, you'll be able to see your current balance, as well as a list of your previous transactions.
Another option is to visit the Emerald Card ATM locator page and click "Find an ATM." Type your address or zip code in the search box and click "Search." View the available results and click "Get Directions" to discover the ATM closest to your home. Once at the ATM, insert your Emerald Mastercard and follow the prompts to check your balance.
Use the Company's Mobile App
If you prefer, you can download the company's mobile app onto your smartphone or tablet and check your account balance on there. On Google Play, the app is MyBlock, and look for the My Block app if you are downloading from the Apple App Store.
After you open the app, sign in just like you would on the company's website. When you click Emerald Card, you'll see your available balance displayed on the top of the screen. Below that are buttons to view your transactions, locate an ATM and upload a check to add funds to the account.
Contact H&R Block by Phone
In the event that you can't access the internet, you can always contact H&R Block by phone and speak to a customer service representative at no cost. Simply dial 800-HRBLOCK, or 800-472-5625, and follow the system's prompts to get help with your Emerald card.
Be prepared to give your Emerald Mastercard account number. For security reasons you may be asked for more information. After pulling up your account, the agent will be able to tell you your available balance.