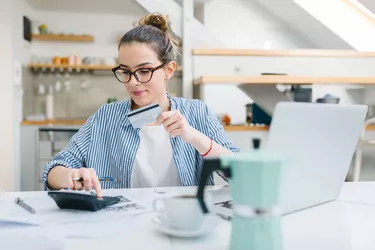 Citibank offers customers a wide variety of banking products, including checking accounts, savings accounts and credit cards. As a customer of one of Citi's 17 credit cards, you can check your card balance several ways, including online, over the phone and via text messaging. You can also apply for a Citibank credit card online by visiting Citi.com and clicking the "Credit Cards" menu button.
Accessing Your Online Account
You can access your account balance from your Citi online account. From the Citi cards home page enter your user ID and password. You can also choose which page of your online account you want to see first. To view your balance, choose the "account home" option. The account home page lists all your Citi accounts, as well as the current balances for each.
Registering an Online Account
If you don't have a Citi online account, register for one by clicking on the "Register" button on the log-in page. Choose your account type and indicate whether you are the primary card holder or an authorized user. Enter your credit card number, your name as it appears on the card and the card's security code. You'll also need the primary cardholder's date of birth and last four digits of his Social Security number. After choosing a user ID, password and security questions, your online account is ready to use.
Downloading the Mobile App
You can also download the Citi mobile app on your smartphone or tablet and have access to your account balances at all times. The mobile app is available on Apple and Android products. If you use another type of smartphone or tablet, you can use Citi's mobile-friendly website on your device's web browser. Visit your device's app store to download the Citi app and use your online account user ID and password to log in and view your balance.
Text Banking for Account Balance
Citi offers text banking where you text a command and get a reply with the account information you want. For example, if you want your card balance, text the code "MYCITI" (692484). You can enroll in text banking via your online Citi account or by calling 1-800-374-9700 (1-800-788-0002 for the hearing impaired).
Calling Over the Phone
You can check your account balance over the phone by calling 1-800-950-5114 (1-800-325-2865 for the hearing impaired) and following the voice prompts. You'll need your Citicard number and zip code. If you call from a phone number on file with that card, you'll automatically hear your account balance.