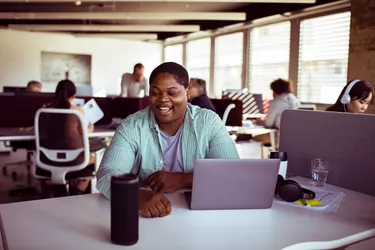 Amazon Alexa has helped improve household management through Alexa-enabled devices like the Amazon Echo, the Echo Dot and Echo Show. The voice technology you use with smart home devices has moved into the conference room and small business arena to optimize operations and streamline tasks. All of which can make the life of a business owner a little saner.
Alexa Skills are voice-activated tools within the Alexa app that allow you to accomplish specific tasks or retrieve information. The available options have evolved far beyond thermostat control, online shopping and music streaming, although those options remain popular uses of Alexa devices.
There are an estimated 100,000 Alexa Skills, ranging from business and finance to fun and games and everything in between. Alexa customers can engage in Alexa Skill development through the Alexa Skills Kit (ASK) and Design Guide to create and publish custom Alexa skills, even if you don't have coding experience.
To add a skill to your Alexa devices, open the mobile app on your iOS or Android phone and select the skill you want to add. You can search for available options by category, such as Alexa Routines, Alexa Communications or Alexa News, and then tap "Enable to Use" to enable the skill on your Alexa devices.
Small business owners and entrepreneurs can use voice technology and Amazon Alexa Skills in their companies by using Alexa for Business.
This service will configure shared devices in rooms and other locations within the business for employees and customers. Business owners can manage skills and settings through a master account. Users within the company are invited to enroll in the shared Alexa for Business account.
From shared calendars and phone calls to video conferencing and meeting room scheduling, the whole team can access the features and Alexa skills you have enabled on shared devices. They may also connect their personal Alexa account to the business account.
Like other services available by Amazon Web Services (AWS), Alexa for Business pricing is a pay-as-you-go service. There is no contract or upfront fee. The business owner is charged by the number of shared devices and users registered with the business account. The Alexa devices must be purchased separately. The Amazon website offers pricing examples for the Alexa for Business service.
Alexa Skills are voice-activated tools within the Alexa app that allow you to accomplish specific tasks or retrieve information.
Alexa Skills for Small Business
When considering what skills will help streamline your business life, start with what Alexa enables you to automate and simplify at home. Some features of your Alexa voice assistant and smart speaker will be just as valuable for the work atmosphere: temperature control, security monitoring and light fixture control, for instance.
And then, there are the specific business-related Alexa Skills will go a long way in making the workday run smoothly. Productivity skills, such as alarms and clocks, calendars, reminders and organizers, can help you track and remember small daily tasks.
Use Alexa to receive notifications about upcoming meetings or countdowns for specific events. Alexa supports Microsoft, Apple and Google Calendars. Set reminders for invoice payment, payroll and other regularly-occurring tasks and record-keeping items.
Use Alexa Skills for website monitoring and receive push notifications if your website goes down. Place weekly orders with Amazon or other suppliers through Alexa by setting up shopping lists. Manage inventory with EasyVoice, a customized Alexa Skill that integrates with Salesforce, QuickBooks and other accounting software providers.
Perhaps the best use of Alexa Skills for your business is to create your customized skills using Alexa Skill Blueprints. These are ready-made skills that you can easily customize to your particular needs.
Setting Up Alexa Skills for Business
To integrate Alexa Skills into the operation of your new startup or existing business, think about the minute tasks you don't want to spend time on daily, weekly and monthly. Find the Alexa Skills to help you manage those tasks through your Alexa and Echo devices. Just as Amazon Alexa is your digital assistant for the home, thousands of new skills exist to help you focus on running and growing your business.