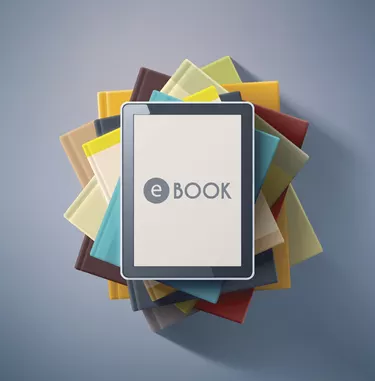 E-readers have come a long way since their introduction in the 1990s. While the basic design hasn't changed much, e-book readers have evolved in functionality, storage capacity and reading experience. If you are among the ​30 percent​ of Americans reading e-books, you may be curious about the Amazon Kindle and the Barnes & Noble Nook.
Number of Books: Kindle vs. Nook
Amazon's Kindle and the Barnes & Noble Nook have more books than you could hope to read in your lifetime. The Kindle has ​2 million​ Kindle e-book titles, in addition to thousands of audiobooks and magazines. The Barnes & Noble Nook boasts ​3.6 million​ e-books, digital newspapers and magazines.
Both devices support several e-book formats:
​Amazon Kindle:​ AZW, MOBI, DOC, HTML, JPEG, PNG, BMP and PDF files
​Barnes & Noble Nook:​ ePub, TXT, DOC, JPEG, GIF, PNG, BMP and PDF files
Kindle devices do not support ePub, a common, open-source format, but you can convert ePub files to MOBI files for your Kindle. Likewise, you can convert MOBI/AZW files for reading on a Nook.
Both devices also allow you to borrow books from your local library using digital apps, like Hoopla and cloudLibrary. The Nook's LendMe feature and Kindle's title loaning feature allow you to share the e-books you own. With the Kindle app or the Nook app, you can also turn any Apple iPhone or Android into an e-reader for free.
Content accessibility isn't a problem for either e-reader.
Cost of Access to e-Books
B&N offers free and discounted Nook books and special bundles through their website and the Nook app. Users can read Nook books free in any B&N store for up to an hour per day. B&N offers a Newsstand to access digital magazines and newspapers. What isn't available for the Nook is something like Kindle Unlimited.
Amazon's Kindle Unlimited is a monthly paid subscription service (currently $9.99) offering unlimited reading and listening of over 2 million Kindle books and Audible audiobooks.
While you can find great e-reading deals for the Nook, Amazon's e-book store and subscription reign supreme.
Overall, many find that the Kindle excels with its sleeker design, larger screen and Kindle Unlimited subscription service.
Kindle/Nook Pros and Cons
Side-by-side, both devices have a lot in common. Both manufacturers have several models, and the two best-sellers of both brands will be compared here: the Kindle Paperwhite and the Nook GlowLight.
Both devices have 8 GB of storage capacity (deluxe models, the Kindle Oasis and the Nook GlowLight 4, have 32 GB). The Nook GlowLight can support a memory card up to 256 GB; the Kindle Paperwhite cannot. Only Kindle Fires support memory cards.
Kindle Paperwhite is selling for $139.99, and the Nook GlowLight 3 is $119.99. Kindle purchasers can save with a trade-in or a Prime Rewards Card, while B&N members get a discount on the Nook.
The Paperwhite and Nook promote low eyestrain with glare-free, high-resolution 300 ppi displays, adjustable or adaptable illumination technology, and dark or night mode. Both connect via Wi-Fi, support Bluetooth and charge conveniently by USB-C or Micro USB. The differences appear in other specs:
​Display technology​: Amazon Kindle uses e-ink display technology, while the Nook uses LCD with a backlight. The e-ink screen offers a more natural reading experience.
​Screen size​: The Kindle Paperwhite has a 6.8" display, compared to the 6" Nook GlowLight and more closely resembles the page size of a printed paperback.
​Water resistance​: The Kindle is IPX8 rated, and the Nook is IPX7 rated. The Kindle is protected against immersion for twice as long.
​Battery life​: Battery life varies by device and situation, but the Kindle claims 10 weeks of battery life based on 30-minute reading intervals. In comparison, the Nook reports four weeks in similar conditions.
​Weight​: At ​6.7 ounces​, the Nook GlowLight 4 is ​20 percent​ lighter than the Kindle Paperwhite. The nearly imperceptible weight difference of the Kindle pays off in a ​13 percent​ larger screen.
​Page-turning​: All Amazon Kindle models except the Kindle Oasis use a touch-screen for page-turning, while all Nooks have touch-screen buttons and page-turn buttons.
​Web browser​: You can access the internet on a Kindle Paperwhite, but the only Nook that has this capability is the Nook Tablet. The Kindle Paperwhite is not an Android tablet like the Kindle Fire or comparable to the connectivity of an iPad.
​Audiobook functionality​: The Nook lags behind in audiobook experience. Where Amazon offers Audible narration and easy access to audiobooks, Barnes & Noble is still working out the kinks of the technology on the Nook.
All currently available Nooks are supported by Barnes & Noble, but certain models are discontinued, such as the Nook Color. The highest-end model, the Nook GlowLight Plus, strives to compare to the Kindle Oasis but falls short on standard storage capacity and audiobook functionality.
Both e-readers work great for reading e-books, but in the end, one comes out ahead.
Kindle Paperwhite vs. Nook GlowLight
Many find that the best e-reader is the Kindle Paperwhite. Both Nook GlowLight and the Kindle Paperwhite are convenient, lightweight and deliver a good reading experience and an impressive number of titles. Overall, the Kindle excels with its sleeker design, larger screen and Kindle Unlimited subscription service.