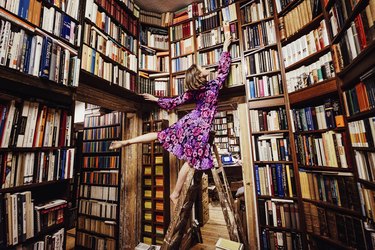 Leisure time is vital to keeping ourselves sane. Not only is it impossible to work all the time (just ask Elon Musk), but it will definitely ruin your life. We've all got our favorite ways to live outside of work, and new survey data has some interesting insights into what that looks like.
Earlier this year, Gallup released a detailed breakdown of where Americans like to spend their free time (or, as the survey puts it, engage in cultural activities). The No. 1 destination across all ages might surprise you: It's the library. We went to the library more than twice as much as we hit up the movie theater, attended a sporting event, or saw a concert, play, or show. Of course, it's easy to argue that all of those alternatives have gotten super expensive, and we love spending as little as possible. Shelling out for "things I don't need," which often includes cultural activities, is one of our biggest collective financial regrets.
But libraries are wonderful and worthwhile in their own right, and not just because an endless supply of free books is a reader's dream come true. The library is one of the few true third spaces available to us — a place where we go to be and discover ourselves without being forced to exchange money for the privilege. Libraries are also more than media alone, although the wide variety of books, movies, music, and other resources makes them vital; they're sites of community-building, self-improvement, and overall learning. No wonder we like them so much.