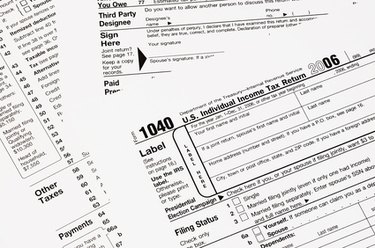 You'll need to use the Form W-2 your employer gives you each year to properly prepare and file your annual tax filing. Without it, you could make mistakes that cost you penalties. If you don't attach your W-2, you might also delay the processing of your return. If you can't find the W-2 your employer gave you (for any tax year), you might be able to get your W-2 form online.
When you do that, you might find a discrepancy you can correct before you file your return. Reviewing the steps for finding your W-2 online will help you get this important document and prepare your taxes correctly.
If you're an employee, you'll fill out a Form W-4 when you begin working so your employer knows how much to deduct from your paycheck each pay period. You can update your W-4 as your filing status changes (such as getting married, divorced or having children).
Each year, you'll also receive a W-2 from your employer(s), which shows how much money you earned and what was deducted from your paychecks during the year. This is the document you'll use to help prepare your tax return.
Ask Your Employer(s) First
Before you try to find your W-2 online, make a quick call to the company that issued it, or stop by your company's HR department and ask them for a copy. You might be able to get a hard copy immediately if you make the request at work, or get a W-2 faxed or emailed to you with a phone request. You can also make the request in writing.
If you're contacting a previous employer, you will need to provide identifying information, such as your name, street address, Social Security number and/or employee number.
You can search for a W-2 online using a variety of websites. If you are looking for your current W-2, employers aren't required to provide those until January 31. If you begin looking online on January 1 (or anytime before January 31), your W-2 might not be available.
If you are looking for an older W-2, visit the websites of TurboTax, ADP and/or H&R Block to check their online search options. You'll need to provide identifying information to get your copy (otherwise, anyone could ask for your W-2). These companies don't have everyone's W-2s, so don't think yours isn't available elsewhere if you can find yours at one of those three sites.
Do an online search, using phrases like, "Find my W-2 online," or "Get an old W-2 online."
If you can't find your W-2 online and an employer isn't cooperative, you can contact the IRS to get a copy of a tax return you previously filed. Visit the IRS website and read the information on this page to learn more about getting your W-2. You can also get a copy of your W-2 when you request an old tax return; this will include the W-2 you attached.
You will fill out and submit From 4506-T. Contacting the IRS can result in a wait up to one month to get your documents.