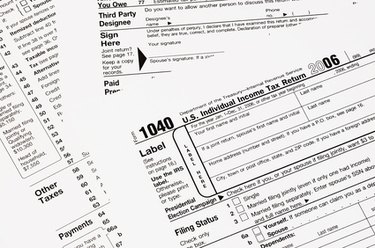 The W-2 form is an income wage statement that tells how much tax was withheld from an employee's paycheck throughout the year for Social Security and for local, state and federal taxes.The W-2s are typically mailed to employees between Jan. 1 and 31 each year. The W-2 has six copies: copy A is sent by the employer to the Social Security Administration, copy B is filed with the employee's federal tax return, copy C is for the employee's records, copy D is for the employer's records and copies 1 and 2 are filed with state and local income tax returns. You may obtain copies of your W-2 by calling the Internal Revenue Service or visiting the IRS website.
Via Phone
Step 1
Look up the number for your local branch of the Internal Revenue Service. You may also call the IRS at 1-866-562-5227 to request Form 4852 which must be submitted to obtain a copy of your W-2s.
Step 2
Complete the Form 4852 upon receiving it in the mail and resubmit to the IRS. Be sure to complete all of the sections to prevent delays.
Step 3
Wait for your request to be processed and your W-2s to be mailed to you. This could take up to eight weeks.
Via the Internet
Step 1
Visit the Internal Revenue Service's website at www.IRS.gov. Type "Form 4852" in the search box in the upper right-hand corner of the home page and then press "Enter."
Step 2
Choose the link to Form 4852 and download it to your computer or a USB drive.
Step 3
Print the form and fill out all of the personal information requested.
Step 4
Mail the completed form to: Internal Revenue Service, P.O. Box 802503, Cincinnati, OH 45280-2503.