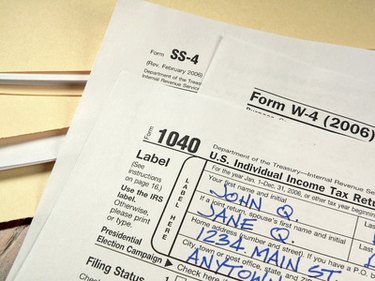 A growing number of employers are giving their employees the opportunity to view and download their W-2 forms online. In some cases, W-2 forms are available for several previous years. W-2 forms are sent out annually by employers as a statement of earnings for the previous year. Although the IRS requires that W-2 forms are sent out by a certain date each year, there may be a delay in receiving yours. Accessing your W-2 online will give you the information you need to file your taxes in a timely manner.
Step 1
Ask your employer for the website to access your W-2 forms online. The department that handles payroll should be able to provide you with this information.
Step 2
Visit the website provided by your employer. The website will most likely be hosted by a third-party company that specializes in handling payroll statements, such as pay stubs and W-2 forms. Companies such as ADP are utilized by a number of companies to store this information.
Step 3
Sign up for an account. If your employer did not give you a username and password to use to access your W-2 form, create one using the requested information. You may have to provide your social security number.
Step 4
Access the account you created. You may be redirected to the homepage to log in after you create your account. Use the username and password you created to log in.
Step 5
Select the W-2 for the year you are seeking. If you have worked with the company for more than a year, you may be able to view W-2 forms for previous years that you have worked.
Step 6
Print the W-2 form. Many websites give you the option to download the W-2 form and print it out. Doing so ensures that you have a hard copy of your W-2 for your personal records.
Tip
If you are uncomfortable submitting your personal information on a website, wait for the paper copy of your W-2 form. Some employers may not allow access to W-2 forms online. If they do not, you will have to wait for a paper copy.
Things You'll Need
Social Security number

Internet access

Printer