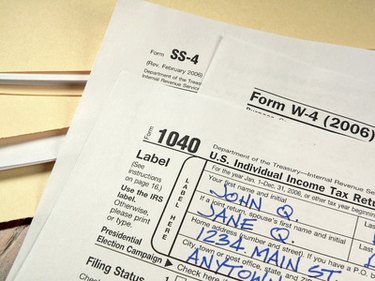 Can you get your W-2 online? The answer to this question is dependent upon the specific company you work for. More and more companies are choosing to create employee portals that grant quick access to important information, including downloadable copies of paychecks and year-end tax documents.
When the W-2 form is made available also varies. If the payroll department is on the ball, you may have access to the form in mid-January. If not, the company is legally required by the Internal Revenue Service (IRS) to get that form out to you no later than ​January 31​.
Sign-In to Your Employee Portal
Contact your company's payroll department to request the link and sign-in information to the employee portal, if you don't already have it. From there, you'll want to look for a tab that reads something like "Year-End Tax Statements" to get your IRS W-2 online. Locate Form W-2: Wage and Tax Statement from the menu and click on it. From there, the system should allow you to view, save, download or print the W-2.
If the company you work for doesn't have their own employee portal, they may outsource this to another organization, like ADP. ADP and other similar management companies also provide a way for employees to access their tax documents. Login details will need to be provided by the employer, but once you have this information, you'll be able to quickly retrieve your W-2.
Always double-check the information on the W-2 to ensure it is correct. If you find an error, you must go directly to your employer to have the mistake fixed.
Obtain W-2 Online by Request
In the event that your employer doesn't use an online employee portal, you may be able to get the W-2 by formally requesting a copy from the human resources, payroll or benefits department. The form can then be emailed to you, where you can download it to your computer to be printed out at your convenience.
It is important to know that some companies, like ResourceMFG, don't allow W-2s to be sent via email due to privacy issues. They will, however, issue one paper copy per year for free in addition to the original copy. All other copies come with a fee of ​$10 each​.
Use H&R Block's Early Access
Another option to get your W-2s online is to visit H&R Block and check to see whether or not your employer participates in the popular tax software's W-2 Early Access program.
If so, you'll be able to request the closest H&R Block branch near you to print the W-2 out and have it ready for you to pick up. To determine whether your employer partners with H&R Block, type the company name or assigned Federal Employer Identification Number (FEIN) in the provided box.
In order to request the W-2 copy from H&R Block, you'll need to follow the prompts that arise after you locate the employer you work for. When picking up the W-2, be prepared to show an agent two forms of identification to verify you are the individual listed on the W-2 form.
Contact the IRS for Assistance
Hopefully you are able to retrieve your W-2 without issue, however, in the event that the employer fails to deliver the form either online or in person, you can call the IRS at ​800-829-1040​ to request assistance. Provide your personal information, information about the company and the year-end total from the final paycheck you received in December to the agent when asked. The agent will then reach out to your employer on your behalf.
Use Form 4852 to estimate your income on your tax return if you still don't receive a W-2 from your employer by the IRS's filing deadline.