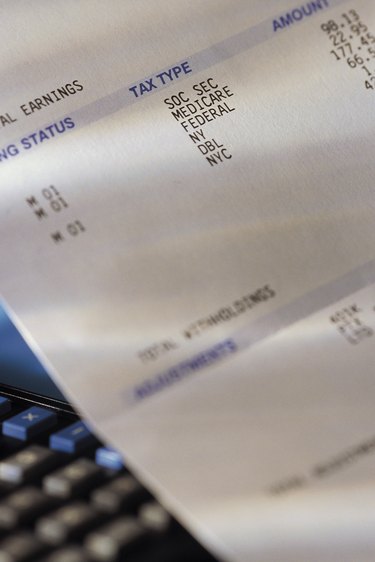 You'll need your Form W-2 to correctly prepare and file your taxes or review previously filed tax returns to make sure they were correct. If you didn't save each copy of your old W-2s or can't find this year's, you have several possibilities for getting them online.
You can request one from the IRS, reach out to your employer (or use your company's intranet), contact the Social Security Administration or see if a third-party company has your W-2 available to download from its website.
Go to Your Company Intranet
The simplest way to get a copy of your W-2 is to contact your HR department. They might be able to print one while you wait. If it's after hours and you want your W-2, you still might be able to get it online from your company. If your employer has an employee intranet, log in using your company-assigned credentials. Look for a link to an area such as, "Employee Forms," or "Human Resources."
Even though you've logged in, you still might need to provide more information to get this sensitive document. Have your employee number, full name, address and Social Security number ready to provide.
Be careful about trying to access a former employer's intranet, either using your old credentials or having a friend search for you. You or she might get into trouble for unauthorized entry or use of the company's intranet.
Employers file your W-2 with the Social Security Administration. The SSA makes your W-2s available free of charge from ​1978​ on if you're requesting the form for Social Security-related reasons – if not, there's a ​$90​ charge (as of February 2022). While you can find the directions online, you'll need to send in a check via mail, or download and print out Form-714 to pay with a credit card by mail.
Follow the directions to download your form. As of February 2022, the SSA requires:
Social Security number
Exact name shown on your Social Security card
Any different names shown on your W-2
Complete mailing address
Year(s) for which you need copies
Daytime telephone number
Reason for the request
When you file your taxes, you are supposed to attach your W-2 to your return. The IRS makes old tax returns available, as well as transcripts of your returns, which are summaries of what you filed providing the key numbers. To get a copy of an old W-2 by requesting a previous tax return (not a transcript), go to the IRS website to download Form 4506, which is a request for a previous tax return. State and local tax information won't be available.
If you're looking for your current tax return (for this year), the IRS might not have that, depending on the date. Employers aren't required to have them in the mail until ​January 31​. Similar to using the SSA to get your W-2, you won't get a copy of your W-2 online from the IRS – you'll have to order it and wait for it to come in the mail.
Use a Third-Party Website
A variety of financial companies (primarily those that offer payroll and tax-preparation services) offer free W-2s via a search tool on their websites. Examples include ADP, H&R Block and TurboTax. If you used a commercial filing service (including a local or independent CPA or tax accountant), you might be able to access that company's website and get your W-2.
In addition to W-2s from previous years, you might be able to get this year's W-2, especially if you use the site of your company's payroll services provider, like ADP. Have your name, mailing address, Social Security number and client number handy to access and get a free copy of your W-2 from one of these providers.