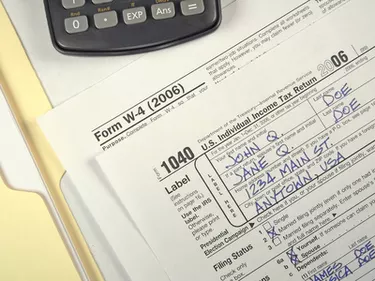 The Internal Revenue Service (IRS) gives employers until ​January 31, 2022,​ to issue W-2s to their employees. Since the IRS allows taxes to be filed before this date, you may not wish to wait for your W-2 to arrive in the mail. Fortunately, there are a few ways you can download and print your W-2 to get an early start on preparing your tax return.
Check Your Company's Online Portal
If you're asking, "Where can I download W-2s?" the best place is straight from the company itself. Many companies today, such as the University of Colorado, have online web portals that employees can use to access important information about their pay.
It is here that you should be able to locate, download and print your W-2. If you don't have your login information to get into the system, you may need to get in touch with the company's human resources department to set it up.
Once you've gained access to the online portal, look for a tab that reads something like "My Info and Pay." Scroll down until you locate the "W-2" link. Before you can open the W-2, you may have to follow a few steps to verify your identity, as the information in that document is sensitive and protected.
When the W-2 comes up on your screen, look for the download icon, which typically features an arrow pointing downward. Click on the icon and you'll be able to save the document to your computer.
H&R Block's W-2 Early Access
Another option is to take advantage of H&R Block's W-2 Early Access program, which is provided free of charge. According to the company, over ​70 million​ W-2s are available within the system, so there's a good chance that you'll be able to locate yours. All you need to search the database is either your employer's name or your employer's Federal Employer Identification Number (FEIN).
How to download W-2s once you find them? Well, with H&R Block, you don't actually do the downloading. You'll see a button that allows you to send the W-2 to H&R Block. From there, you can contact your closest branch office and set up a time to come and pick up the document. An H&R Block employee will download and print the W-2 for you.
In the event that you have not received your W-2 by ​February 15​, H&R Block instructs taxpayers to contact the IRS by calling ​800-829-1040​. Let the representative know that your W-2 is missing and they will reach out to your employer to request a new copy be issued on your behalf. You'll need to have the following information ready when you call:
Your name
Address
Phone number
Social Security Number
Dates of employment
Employer's name, address and phone number
Should you still not receive the W-2, download and print Form 4852: Substitute for Form W-2, Wage and Tax Statement. Use this form to report your income, which you should be able to retrieve from the last paystub of the year.
Although tax software, like TurboTax, doesn't offer access to your W-2, they do make it a cinch to import the information on your W-2 form once you have it. In fact, all you have to do is snap a photo of the document using your webcam or the camera on your cell phone. The tax software will automatically enter all of the information on the form for you, significantly speeding up the time spent preparing your return.