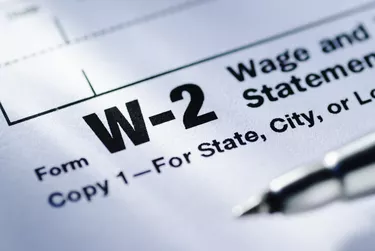 While many taxpayers choose to wait to file their tax returns until just before the deadline in April, others prefer to get the task done as quickly as possible. Before a taxpayer can complete their return, however, they must have all of the required documents. This includes a W-2 for all individuals who are classified as an employee.
According to the Internal Revenue Service (IRS), employers have until ​January 31, 2022,​ to mail wage statements to their employees. If you don't want to wait, there are a few things you can do to get your W-2 form fast.
Before the end of the year, it's wise to check that your employer has the correct information on file. Request to verify that the name, address and Social Security Number on your account are correct and free from any errors. Errors, including the wrong address, may delay the W-2 form from reaching you. The mistakes would also need to be corrected before they can be used with your tax return.
There are several reasons contacting the human resources department at your place of employment can speed up getting your W-2.
First, you can specifically request that your W-2 form be expedited. In some cases, especially if the company is smaller in size, this may be possible. They may even be able to email you the form when they have it completed. Second, you can request login credentials to the company's online employee services portal.
The University of Colorado is one example of a company that provides W-2 access online. After logging in, employees can locate their W-2 using the "My Info and Pay" tab. Taxpayers can download the W-2 to their computer and then print it out when it is most convenient. St. Leo University instructs its employees to head to the company's payroll processor to obtain their W-2 forms.
However your company has it set up, grabbing your W-2 online is certainly much faster than waiting for it to arrive in the mail.
Ask if your employer partners with a tax preparer. Many companies do this and will automatically upload all employee W-2s into the system as soon as they are prepared. One of the most popular options is H&R Block, which reports an astounding ​70 million​ W-2s in its Early Access program. If the tax preparer has your W-2, they may require that you call to schedule an appointment to pick it up. Make sure you bring a valid form of identification that matches the information on your W-2.
In the event that your employer has not created a W-2 that can be accessed online or in print, you can call the IRS at ​800-829-1040​ and ask them to speed things along on your behalf. You will need to wait until ​February 15, 2022,​ to do this. Once that date arrives, give the IRS your personal info, as well as the employer's info and your dates of employment.
When an employer doesn't comply, you still need to report your income to the IRS, so the IRS created Form 4852: Substitute for Form W-2, Wage and Tax Statement. On the last paycheck of the year, you should see a box that reads "Year-to-Date." Use the total from this box to add your income to the form.