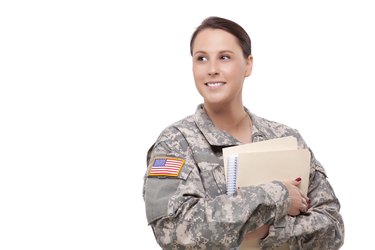 The U.S. Department of Defense posts W-2 Information online and sends paper W-2 forms to active duty and separated service members through the U.S. Postal Service. Every year between mid-November and mid-December, the Defense Finance and Accounting Service posts a schedule online as to when you can expect W-2 information to become available on the MyPay website or sent through the mail. If you do not receive yours, or if the W-2 you receive is incorrect, there are ways to get a replacement.
Get a W-2 Online
Submit an online reissue request from the MYPay website. This option is available to both active duty and separated service members, as anyone leaving military service retains access to MyPay for 12 months from the date of separation. The form asks for your Social Security number, contact information, branch of service and information about the W-2 you are requesting. According to the DFAS, it takes five to seven business days to receive a replacement W-2 by return mail.
Telephone Numbers and Locations
Although submitting a request online is the preferred method, if you need to speak with someone to request or correct a tax statement, there are other options. Army, Navy and Air Force active duty and separated service members -- including those in the reserves or National Guard as well as separated Marine Corps members -- can call 888-332-7411. Marine Corps active duty and reserve members should speak with a representative at their finance offices.