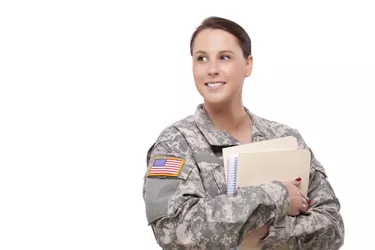 The U.S. Department of Defense's Defense Finance and Accounting Service (DFAS) is responsible for issuing W-2 forms for the military. Military members are automatically signed up for paper copies of their W-2s; however, there is the ability to opt-out of mail copies and accept an electronic copy of the important tax document instead. All of this can be done online through the myPay website.
Getting Started With MyPay
When it comes to how to get military W-2s, you must first create an account on the myPay website. According to myPay, new users will be automatically mailed or emailed their login information. Accounts are always set up on the ​3rd​ and ​13th​ of each month, although users won't have access to their cards until after their first paycheck is deposited.
To gain access to your myPay account, simply visit the homepage and enter your login ID and password. Click the blue "Sign In" tab and you're good to go. There are links below the login boxes if you forgot your login ID or password and need to retrieve it.
Obtaining a W-2 for Military
Active duty military members can access their W-2 through the myPay website, and then print out a copy for their records. How do I get my military W-2 after separation? Separated service members are also eligible to use the platform for an additional ​13 months​, points out the Department of Defense, which means you shouldn't have any trouble gathering the necessary documents come tax time.
The Department of Defense reveals that there are two additional ways to request a copy of your W-2, should the myPay system itself be experiencing difficulties. You can call the DAFS at ​888-332-7411​ and follow the prompts to make the request, or fill out the askDAFS form online. You will need to enter your Social Security number, so make sure you have that ready. The W-2 will then be issued within ​seven to 10 business days​.
Retirees and survivors looking for W-2s will also need to use the askDAFS form online to obtain a copy of their tax documents if the myPay system is down.
Timing of Military W-2 Disbursement
When do military W-2s come out? According to Military.com, the release dates for the ​2021​ tax year were as follows:
Reserve Army, Navy, Air Force and Space Force W-2s: ​January 3, 2022​
Reserve and Active Marine Corps W-2s: ​January 15, 2022​
Federal Civilian Employee W-2s: ​January 20, 2022​
Active Army, Navy, Air Force and Space Force W-2s: ​January 25, 2022​
Keep in mind that these dates will change from year to year, but should only do so slightly. No matter what, you will have access to your W-2 by ​January 31​, as this is the last day by law that employers can issue the tax form.
H&R Block Early Access Program
If you work for certain military establishments, such as the Air Force Academy, you may find your W-2 is available through H&R Block's Early Access program.
Head to H&R Block's website and type in either the company name or the Federal Employer Identification Number (FEIN). From there, you'll be able to request your W-2 be electronically submitted to the closest H&R Block branch. You'll need to call the branch to set up a time to retrieve the W-2.
Make sure you come prepared to show two forms of identification. Since the information on your W-2 is sensitive, this measure ensures your document doesn't fall into the wrong hands.