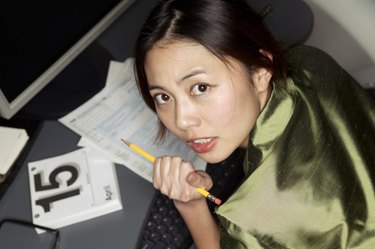 A W-2 is a tax form that you receive from your employer, detailing your wages and tax deductions throughout the year. The law requires that your employer send out a W-2 form to you each year before January 31st. The deadline to file your taxes is April 15th of every year. If you're in a rush to file your taxes, you may want to request your W-2 earlier than expected.
Step 1
Contact the human resources department of your employer before January. They may be able to release your W-2 early, depending on the circumstances.
Step 2
Visit H&R Block's W-2 Early Access site. Select the company you are attempting to get your W-2 from and H&R Block will search to see if that company is listed and the W-2 available. You will need your Social Security number and amount of your previous years' federal income tax.
Step 3
Visit the W-2 eXpress site to see if your company is listed. Enter the company name and your personal information. You may be able to get the W-2, if uploaded, before your employer mails it to you.
Step 4
Download your W-2 from Automatic Data Processing (ADP) website. If your company uses ADP services for payroll, you should be able to get your W-2 form online. Contact your employer to get the ID number used on the Automatic Data Processing (ADP) website. You can choose to have the form delivered to you through the U.S. mail or electronically in PDF format. Probably the best thing to do is to save it to your computer electronically and also request a paper copy be mailed to you.
Tip
By law employers do not have to distribute W-2 forms until January 31st.
For any of the methods suggested, it's best to alert your employer at least two months ahead of time that you want your W-2 form before the standard deadline.