Automatic Data Processing is one of the top payroll service providers in the world, serving more than 700,000 businesses in 113 countries. With so many companies relying on ADP's services, though, at tax time employees often find themselves on ADP's website, trying to download the forms they need to file their taxes. If you're one of those employees, never fear. Downloading a form from ADP is quick and (relatively) painless.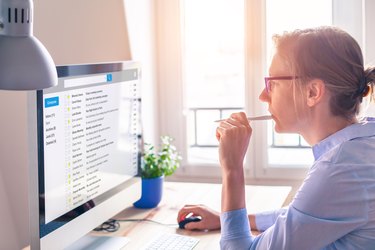 Wait for January 31
The responsibility for getting forms in the hands of employees rests with the employer, but many use ADP's services to make that happen. On your employer's end, the deadline is January 31 to deliver the forms to qualifying employees and contractors. This is done by mail or hand delivery. After that deadline, you can access your Form W-2s by logging into your business' ADP portal. You should have been granted a username and login for this system. Look through the paperwork you signed at hiring and make sure there isn't information included about accessing your company's HR app. If you can't find anything, see your HR representative for access. You can also download the ADP Mobile Solutions app, which lets you view and print your pay stubs and W-2 forms.
Trouble Receiving W-2s
If January 31 passes, and you haven't received a W-2, check your original hiring paperwork. You may have opted out of paper delivery of your forms, which means you likely have instructions for accessing the portal. You may also have issues accessing your W-2 if you're no longer working for a particular employer from the previous year. The business is still required to send you a W-2, but this doesn't always happen.
If you are still without a W-2 after February 14, and contacting HR isn't an option, call the IRS at 800-TAX-1040. The agency will contact the employer in question to get the missing form. You'll need your name, Social Security number and phone number, as well as contact information for your employer and employment dates. You'll also need to estimate the amount of taxes withheld. You can get this information from your pay stubs.
In most cases, employers ensure that workers receive the forms they need. However, occasionally things fall through the cracks. When that happens, log into your business' ADP portal to access your W-2. If that's not possible, call HR or, as a last resort, the IRS can get the forms you need to file by the mid-April tax deadline.