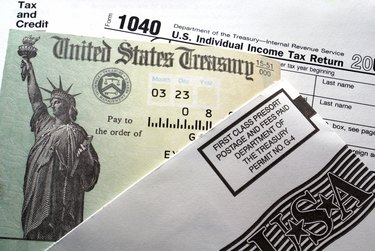 After filing your taxes with H&R Block, you can check the status of your refund in a variety of ways. The company can help you in person at a local H&R Block office, or you can do it yourself by phone or online.
Ways to Check Status
If you prefer speaking to a live person, you can call H&R Block's customer service line at (800) 472-5625 or visit a local office. The company will need your name, Social Security number, date of birth, filing status and amount of your refund. If you e-filed, visit the "E-File & Refund Status" page on H&R Block's website. You must enter your Social Security number, last name, date of birth and tax-filing method, such as H&R Block office or H&R Block software. Click on the "Check" button when finished.
Check Status on IRS and State Websites
You can also check refund status through the "Where's My Refund?" page on the IRS' website. Enter your Social Security number, filing status and refund amount, then click on the "Submit" button at the bottom of the page. The database is updated every 24 hours. Many states also have online databases you can search if you want to know the status of a state tax refund. For example, in California, visit the "Check Your Refund Status" page of the Franchise Tax Board's website and provide your Social Security number, mailing address and refund amount.