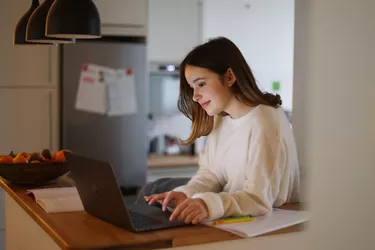 If your children are struggling in school, you may want to get a tutor to help them succeed, and Sylvan Learning Center has an excellent reputation. However, it is expensive for many families, which is why there are options for Sylvan Learning Center financial aid. There are several options for paying for your child's Sylvan tutoring, including financing, scholarships and more.
Scholarships for Sylvan Tutoring
The national Sylvan Learning Center organization does not formally award scholarship aid to students. However, Sylvan Learning does note that individual locations of the business help meet the academic needs of their community directly. Many of them award reduced or even free services that are paid from fundraising and donations. For example, Sylvan Learning Center in Tyler, Texas may fund free tutoring services for needy local children. Contact your local Sylvan to inquire about scholarships and Sylvan Learning Center financial aid.
You don't have to receive a scholarship directly from Sylvan to use it there. Many third-party organizations also donate money to help children excel academically, which families can use to pay for Sylvan tutoring. You'll want to contact community outreach organizations that provide services to families to learn more.
If your child has special needs or there are other particular circumstances, there may be advocacy organizations that will help pay for tutoring. For example, Autism Speaks provides millions of dollars in research annually, but it also helps families pay for services like tutoring. There are similar organizations for crime victims, asylum seekers, immigrants, minorities and more.
Sylvan Learning Center Financing
Scholarships are the best option for families struggling to pay for tutoring services at Sylvan Learning Center. If those are unavailable or will not cover all the costs, there are also financing options. Sylvan offers parents and caregivers flexible payment plans. That way, you can provide your child with the help needed while paying what you can. You continue to make monthly payments on your balance until you pay off the entire balance, even if your child has completed tutoring.
Payment plans may be subject to a credit check, and your balance may accrue interest if it isn't paid in full each month. Clear up details before signing an agreement. Plans vary depending on your location. You will most likely need to pay Sylvan whether or not your child's academic performance improves unless you have a guarantee from Sylvan in writing or can prove wrongdoing on its part. Experts recommend that parents play an active role in all aspects of their children's education, including tutoring.
Other Options for Kids Needing Tutors
If Sylvan Learning Center doesn't work for financial reasons or otherwise, you have other options for academic aid. If your family currently receives public assistance of any kind, you may be eligible for free or reduced tutoring services. Speak with a case worker to learn more about how to apply. If you have a family member who works for the federal government, the Federal Employee Education & Assistance Fund provides resources for how to get the assistance you need.
When you begin looking for options, you should start with your child's school. Talk to your child's teachers and guidance counselor and be open to suggestions. The school may be able to point you in the right direction or provide services itself. If your child is struggling in a specific subject area, you might be able to find a high school or college student who can help. You will want to look for someone who is not only skilled and knowledgeable but also passionate about the subject. Hopefully, this enthusiasm will help engage your child and build interest.