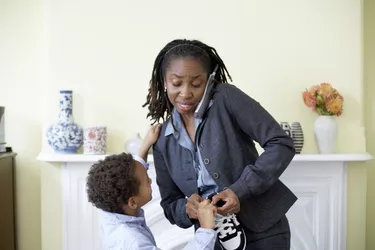 If you're dealing with back-to-school stress, you aren't alone. But parental stress can have a direct impact on your children's academic performance, so it's important to do what you can to reduce your stress levels. Creating a morning routine for school days can get both you and your youngest family members off to a great start.
Setting Up a Morning Routine
Morning routines flew out the window during the pandemic, as quarantine and stay-at-home orders had many students learning at home. But now that students are back in the classroom, parents are finding their way back to those daily routines that make such a difference. First, sit down and plan out a good morning routine that cuts down on stress and ensures your child gets that all-too-important healthy breakfast that provides both body and brain fuel.
Start by writing out a checklist of what you need to do each morning. Here are a few common before-school routine items to get you started.
Wash face and brush hair
Get dressed
Eat breakfast
Brush teeth
Make beds
Pack lunch boxes
Double-check backpacks
Shoes and jacket or coat on
A morning routine can be overwhelming, even if you're a morning person. That's why getting ready the night before can be the best thing you can do. Get in the habit of making sure all homework and studying are complete before dinner, if possible, so that your family can enjoy a relaxing evening.
After dinner, have your children to prepare for the next day by laying out all clothing and getting school supplies packed into backpacks before bed. Make sure everyone gets a good night's sleep and double-check that all alarm clocks are set before bed. Don't forget to build in a little extra time in your morning for those unexpected delays.
Creating a morning routine for school days can get both you and your youngest family members off to a great start.
You don't have to do it alone. There are tools that can help you set up a great morning routine. Start with printable templates that can help you create checklists and schedules. If you have more than one school-age child, invest in containers and labels to keep each child's school supplies separate so that you avoid those time-wasting morning arguments.
Time management techniques can also help save your family money. Instead of waiting until the last minute and sending kids out the front door with lunch money, set aside a couple of hours each week to prep lunches for each day. You can even get older kids in on the fun, giving them containers that personalize their lunches to their own personality.
Issue Rewards for Success
Creating a good morning routine benefits everyone in the family. You start your day off on the right foot, and your kids learn healthy habits that will last them a lifetime. One way to make your plan a success is to reward your kids for completing all the items on your checklist.
This starts with your bedtime routine and extends all the way through to the morning. If children finish early, let them do something they enjoy, such as playing a video game, reading a book or watching a little TV. For younger kids, jump in and play a game with them when they complete all their tasks ahead of schedule. You may even want to build a little extra time into your morning and reward them for completing everything on time, rather than forcing them to finish early to get the reward.
Whether your kids are in elementary school, middle school or high school, your family's morning routine has a direct impact on your work-life balance. Getting organized and planning ahead can help ensure a stress-free morning, which will in turn put you in the best mindset for the day ahead.