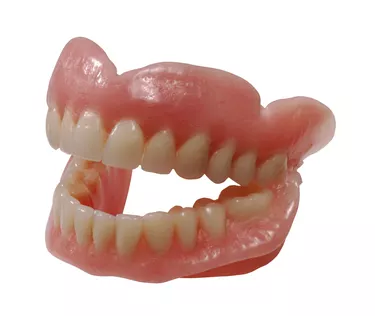 Having a full set of teeth is important to maintain your health, hygiene and even your self-esteem and appearance. Unfortunately, if you're uninsured or under-insured, the expense of dental work can be exorbitant. According to the Cost Helper website, the average expense for a full set of dentures can run from $2,000 to $8,000. Even the most economical dentistry may still be unaffordable to the financially disadvantaged, elderly and disabled on fixed incomes. Fortunately, a few organizations offer grants for dental work that often include dentures.
Medicaid
Medicaid provides full dental coverage only to children of low-income families who meet eligibility guidelines. If your child is under the age of 19 and qualifies for Medicaid, the full cost of dentures will be covered. For adults over 19, Medicaid covers only select dental procedures and may include only partial dentures. Adult coverage varies by state, and many provide only preventative and emergency dental services such as extractions or checkups. Complete dentures are typically not covered. Contact your local department of health and human services to find out whether you meet state-required income guidelines to qualify.
Children's Dental Grants
If you are a parent who cannot afford dental insurance but your combined family income exceeds guidelines to qualify for Medicaid, your children may still be eligible for CHIP. The Children's Health Insurance Program is sponsored by state and federal governments to provide children under the age of 19 with full coverage dental insurance. If your child needs dentures and is qualified to participate in CHIP, grants will be provided payable directly to the dental provider to cover part or all of the expense. Call 1-877-KIDS-NOW to find your state CHIP agencies.
Elderly and Disabled Assistance
Senior citizens and physically challenged people can seek financial assistance for dentures through the National Foundation of Dentistry for the Handicapped (NFDH). At the time of publication, 15,000 dentists and 3,000 dental laboratories nationwide are affiliated with the NFDH. Participants donate their time and services to elderly, disabled and medically compromised patients at hundreds of facilities throughout the country. If you meet eligibility requirements, you may qualify for a grant to cover the expense of dentures. Visit the NFDH website for a program in your state.
Dental Research Schools and Programs
Dental students often require patients on whom to practice while completing their internships. Because of this, many colleges and universities with dental schools run clinics and research programs that are open to the public. These types of learning colleges often provide significantly discounted -- and sometimes free -- services to patients who meet with eligibility and income guidelines. Contact colleges and schools of dentistry to inquire about any teaching clinics or research programs that may be available in your area and learn whether they provide denture services.
"Get Free Dental" Grants
At of August 2011, the Get Free Dental online dentistry resource site offers free dental grants to cover the procedure of your choice. In a contest-like fashion, award recipients must follow several steps and submit an essay outlining their needs to be considered for eligibility. By following four steps and filling out an online contact form, you can submit your story to enter to win a free dental grant. A winner is drawn each month, and you can re-enter as many times as you like, once each month.