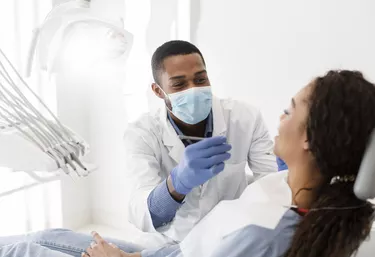 No matter what your income, dealing with health insurance frustrations and scary medical costs can be enough to make you ill. But if you meet the eligibility guidelines, you may qualify for dentist visits with Medicaid. This health insurance program is largely funded by the federal government but operated by individual states, which set the income limits, premiums (if any), deductibles, co-pays and covered medical services. A physician who takes Medicaid patients agrees to treat those who've enrolled in the program and to accept reimbursement amounts for services set by the program.
Medicaid is available for dental visits in many states, where finding a Medicaid-friendly dentist is simply a matter of communicating with either the provider or the agency that operates the program.
If you're unsure whether your state's Medicaid program covers dental visits, your problem is largely solved if the prospective patient is a minor child. The federal rules on Medicaid require all states to cover pediatric dental visits, while Medicaid dental coverage for adults in each state is optional. In addition, children's visits must cover treatment of any pain and infections, restoration of damaged or decayed teeth and maintenance of dental health.
Finding a Medicaid Dentist
If you're on Medicaid, the easiest way to find a list of dentists that will accept your insurance is to consult the provider directory. This is a guide to all physicians in your state, usually organized by practice area, that will see Medicaid patients. If you don't have the directory, contact the Medicaid agency by phone or online for the information.
The federal Centers for Medicaid and Medicare Services agency maintains a useful website that provides basic information on each state's Medicaid program and links to the state's Medicaid website. Private health organizations, such as DentaQuest, also have directories that allow you to search for a Medicaid dentist by state, geographic area, distance from your home and name.
According to the American Dental Association, 35 states as well as the District of Columbia offer some form of Medicaid coverage for dental for adults as of November 2020. However, participation by individual providers is always optional. If your state Medicaid program includes dentistry, and you have a local dentist in mind, contact their office directly to inquire whether or not they will accept Medicaid insurance. If they don't, they may be able to refer you to another dentist who will.
If you have trouble scheduling an appointment, contact the state Medicaid agency for assistance. Bring your ​insurance card​ to the dentist's office and be prepared to complete some paperwork, if it's your first visit.
Due Diligence on Dentists
Of course, when searching for someone to care for your oral health, you want the best dentist you can find. Instead of (or in addition to) just asking around, consult ​review sites​ that specialize in medical providers. On Healthgrades, you can research local dentists by simply entering your Zip Code. The site returns names, addresses, photographs, "patient satisfaction" ratings, the dentist's educational background and a background check for sanctions and medical board actions.
On this and other sites, Medicaid information is spotty and may not be available, or current, meaning your phone call to the dentist's office may still be necessary.