Medicaid provides health-care coverage for low-income people, as well as children and the disabled, blind and aged. Currently, 32 states and the District of Columbia automatically provide Medicaid coverage to those on Supplemental Security Income (SSI). Other states require the filing of a separate Medicaid application for SSI recipients, while some states have eligibility rules differing from that of federal SSI. Since Medicaid is needs-based, if the recipient's condition improves and the person no longer is disabled, or if the recipient has sufficient income to no longer qualify for Medicaid, the coverage must be canceled. Any such change in circumstances requires reporting to Medicaid, and that is the responsibility of recipients or their legal guardian to report these changes.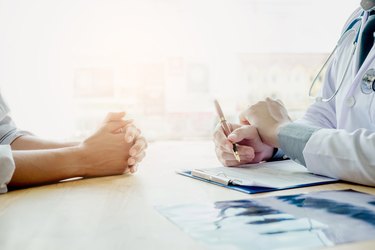 The State Health Department
Since Medicaid is a program funded and run under both federal and state jurisdictions, cancellation of Medicaid coverage requires contacting your state's health department. Your Medicaid card may provide the contact information needed, or you can go online and find your state's health department website. The website also should post a toll-free number if you would rather go through the process over the phone with a representative, or the address of an office that you can visit to cancel coverage after making an appointment.
Canceling Online
The easiest way to cancel your Medicaid coverage is by going online to your state's healthcare marketplace. If you do not already have an account in the marketplace, you must create one before you can cancel your coverage. Your state's marketplace website will give you instructions and prompts on creating your account. When you cancel your coverage, it will end on the last day of the month you selected for ending coverage. For example, if you cancel Medicaid coverage online on April 15, your coverage ends as of April 30. Make sure the cancellation dates do not leave you with a gap in coverage if you are making other health insurance arrangements. No matter which method you use to cancel, you will receive a notice of cancellation in the mail.
Contact the Caseworker
If you have any problems canceling Medicaid coverage online or by phone or would like to speak with someone familiar with your situation, contact the caseworker handling your account. This is also the person you would contact to inform them of other changes in circumstances besides cancellation. Your caseworker's name and contact information are available on Medicaid paperwork, including that determining eligibility and benefits. Your caseworker should send you all the necessary documentation you need to cancel coverage, and once you filled it in and submitted it, you should receive the confirmation cancellation via mail.