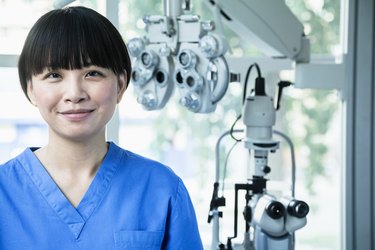 Years ago, if you were looking for an optometrist who takes Medicare, you might have to ask your friends for recommendations. Now, it's a snap for Medicare patients to find optometrists, opthalmologists, or any other medical specialist thanks to the "Find Doctors & Other Healthcare Professionals" feature on Medicare.gov.
About Medicare.gov
Medicare.gov is Medicare's information site. On the left side of the main page is a menu you can use to find Medicare providers, suppliers, and facilities. Click the link for doctors and other providers. Enter your location and the specialty name, hit Enter, and you'll go to a list of optometrists who accept Medicare, all neatly organized by distance. As of this writing, for example, there are 111 optometrists within 5 miles of Houston's center. Rainelle, WV (population 1,505), has two in town and 17 more within 37 miles.
Doctor Information
To learn more about an optometrist, click on her name. The information page lists gender, practice address, where the doctor attended medical school, and year of graduation. You'll also see a link about a Physician Quality Reporting System. As of this writing, however, the PQRS includes only group practices, and it hasn't yet posted quality ratings. The "Physician Compare" feature itself is a work in progress. To date, you can't compare individual doctors side by side. You can compare up to three group practices, though, by using a tab on the first "physician compare" page.
Medicare Assignment
If you have traditional Medicare, you probably will want a doctor who accepts "Medicare assignment" -- that is, who charges only what Medicare pays, so you don't have to pay extra out of pocket. On the "Physician Compare" page, click "Additional Search Options" and check the Medicare assignment box. The same search option appears in the "Modify Your Results" column after you've started your search. Medicare recommends phoning the doctor's office to double-check. If you're in a Medicare Advantage plan. Make sure the doctor is on the provider list and that you don't need a referral from your primary care physician.
Requesting Reimbursement
If you have traditional Medicare and you go to an optometrist who doesn't accept Medicare assignment, you'll probably have to pay the doctor directly -- possibly before you receive services -- and then file a claim for reimbursement with Medicare. How much you'll receive depends largely on what Medicare usually pays for the service and whether you've reached your deductible. You will not be reimbursed for your copay. If you're in a Medicare Advantage plan and you go to an out-of-network doctor, you'll have to take up the reimbursement issue with your insurer instead.