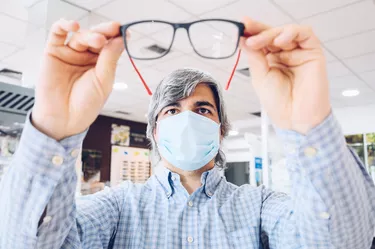 When it comes to vision care, regular Medicare provides limited coverage that may be expanded through enrollment in a Medicare Advantage plan. Some options for locating optometrists that take Medicare include using the Medicare website's provider search tool, checking through third-party insurer websites and consulting the optometrist's office directly.
Understanding Medicare Vision Coverage
Medicare consists of various types of coverage with specific benefits, so you'll want to verify that your coverage would work for your optometry needs. The standard Medicare Part A and Part B plans usually won't help if you only need to buy a pair of standard glasses or need a regular eye exam unless there's a medical reason.
However, there are exceptions for certain services like glaucoma testing for high-risk individuals, eye exams for diabetics and help for those with macular degeneration. Further, you can often get coverage for the diagnosis and treatment for other medical eye issues such as cataracts.
If you have signed up for Medicare Part C – often called Medicare Advantage – then you have a better chance of getting your vision care needs covered in a broader range of situations. For example, such plans will often pay for regular eye exams alongside vision correction through contacts and glasses. Factors like copayments and maximum annual limits will depend on the Medicare Advantage insurer and plan you select along with your location.
If you have a particular optometrist's office in mind, you can try visiting their website and looking for a page related to financing or insurance.
Finding Optometrists That Take Medicare
To find optometrists that take Medicare, you can go to the Medicare.gov website and click the "Find Care Providers" link to get a lookup tool to use. There, you can fill in your location, select a type of provider ("Doctors & Clinicians" for this purpose) and then type "optometrist" in the "Name & Keyword" box to narrow down providers by specialty. Clicking "Search" brings up a page with matching Medicare providers nearest your location.
You can then access the filters to set a maximum distance, choose to see doctors of a particular gender or narrow results to just participating providers. Participating providers are those who have an agreement and thus have a limit to what they can charge you, so using such doctors is a good option for saving money. You'll usually need to pay more for non-participating providers.
While individual results show the optometrist's name and contact information, you can click any optometrist's name to learn more about them. You'll also see an indicator of whether they're a participating or non-participating provider on both the individual result and their details page.
Searching Medicare Advantage Provider Websites
If you've signed up for a Medicare Advantage plan, you can often go to the affiliated insurer's website and locate a provider lookup tool that can help you find optometrists that accept Medicaid. For example, Humana has a page dedicated to finding eye doctors with a link to find Medicare providers, and you'll have options to search by doctor or location as well as find providers that offer online care.
The search results page should have a filter to select optometrists alongside other preferences you might have, and you can expect a list with links to see details for each optometrist.
Checking With Optometrists Directly
If you have a particular optometrist's office in mind, you can try visiting their website and looking for a page related to financing or insurance. You can use the same strategy for optometrists that show up in business directories or search engine pages. Optometrists that take Medicare will usually list the insurance alongside private options. You may want to follow up by calling the office if you don't see Medicare as an option or if you want to verify whether they're a non-participating or participating provider.