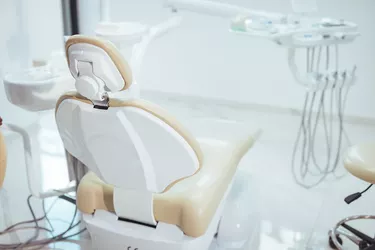 If you're in charge of choosing dental care or dental insurance for yourself, your family or your business, you need to understand all your options. While there are hundreds of insurance companies and plans, there are just a few types of plans available, including PPO and DMO. Several different types of dental coverage plans are available, but each has different intricacies. When you browse individual options, this information will ensure that you're better able to make the best decision for your dental care.
What Is a PPO Dental Insurance Plan?
The insurance experts at Cigna explain that PPO stands for a preferred provider organization. Under the PPO plan, the insurance company enters into contracts with providers for various services. These services usually include preventive care like cleanings, as well as orthodontics, prosthetics, fillings and other services.
Under a PPO dental plan, you select a network dentist who is on your health insurance. When you visit them, you pay a copay. As long as your premiums (monthly payments) are current, the plan will pay the remaining balance minus your deductible. Most PPO plans have deductibles, which the experts at the Insurance Information Institute write is the amount of money above your premium that your insurance company expects you to contribute to your care each year. At this point, your coinsurance kicks in, and the PPO pays the rest.
One of the most prominent differences between a PPO and a DMO is that PPO insurance allows you to see dentists outside your coverage network. Your insurance will still pay, but they won't cover as much of the costs; you'll be responsible for most of those. In some cases, you might have reimbursements after the fact.
What Is DMO Dental Coverage?
DMOs, or dental maintenance organizations, are similar to HMOs (health maintenance organizations). Under a DMO plan, you must visit an in-network dentist in order for your services to be covered by the plan. In other words, you have no out-of-network benefits, so you can only get your insurance benefits when you're in the local area. Luckily, most plans have a vast network of dentists from which to choose, so it won't necessarily mean you can't find the care you need.
Another thing that is distinct about dental DMOs is that they typically have no deductible. After the waiting period, your dental benefits kick in, and you don't face steep bills on top of your monthly premiums.
Coinsurance also works differently. DHMO plans ask members to pay a flat rate in their fee schedule, but with PPOs, it's a percentage. For some people, paying a percentage is much riskier if they're worried about their out-of-pocket costs skyrocketing.
Which Dental Services are Right for Me?
There is no easy answer for which is the better type of plan. It depends greatly on your needs and preferences. Besides the deductibles and coinsurance, there are some other differences.
In general, HMOs tend to be more affordable but are more restrictive. You must see a network provider, and not all services will be covered by the plan. Another factor that you will want to be aware of is annual maximums. PPOs are more likely to have them but they are less common with dental HMOs. If you need a lot of dental work or have special conditions, you'll want to make sure you won't run out of benefits with your plan.
DMO plans also require you to select a primary dentist, and you'll need a referral from that person to see any other dental provider, including an orthodontist or specialist. Neither plan is better than the other type if you need specialized dental services. Before selecting a plan, ensure that it will cover everything you need. Whichever type of plan you choose, dental care is an essential component of health care. Visit your primary care dentist twice a year and follow their recommendations.