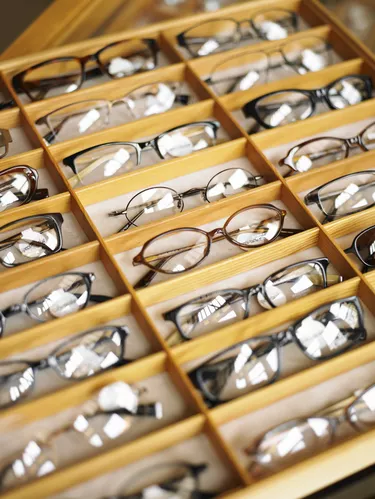 Eye exams and glasses can be costly, particularly if you don't have insurance that covers vision care. If you don't have coverage, you have a few options for getting low-cost or free exams and eyeglasses. These include participating in a vision discount program, buying eyeglasses online and working with charities that provide free and low-cost vision care services.
Discount Vision Plans
Discount vision plans aren't insurance. Instead, they provide savings on eye exams, eyeglasses and contacts. Companies that offer discount plans advertise online, but you may already have access to one through your workplace or school. Some industry associations, consumer services and organizations such as AARP or AAA, offer discount vision plans as a member benefit.
Warehouse membership clubs, such as Costco and Sam's Club sometimes operate vision centers, offering discounted eye exams and glasses to members.
Free and Low-Cost Eye Exams
If you can't afford an eye exam, there are several organizations that can help:
[Local Lions Club chapters](http://www.lionsclubs.org/EN/how-we-serve/assistance-requests.php) sometimes provide financial assistance for adults and children who need vision care, including exams and eyeglasses.

The [VISION USA](http://www.aoafoundation.org/vision-usa/) program provides free eye exams to low-income individuals. To get help through this program, you must have [a referral](http://www.aoafoundation.org/vision-usa/referral-agencies/) from a social service agency that partners with VISION USA.

[EyeCare America](http://www.aao.org/eyecare-america/online-referral-center) provides free eye exams and eye health care to people over the age of 65 who haven't seen an eye doctor in three years or more. The program also provides free glaucoma examinations to uninsured patients who are considered at-risk for developing glaucoma.
Programs for Children
In addition to eye health programs for adults, there are public and private programs that provide free eye exams and glasses for children:
[InfantSEE](http://www.infantsee.org/) provides free eye exams for children younger than 1. There are no income or insurance qualifications for this program.

[Sight for Students](http://www.sightforstudents.org/) offers free exams and eyeglasses for children.
If you don't have health insurance for your family, your children may be eligible for coverage through Medicaid or your state's Children's Health Insurance Program (CHIP). Medicaid covers vision services, coverage under CHIP varies by state.
Free and Inexpensive Glasses
If your local eyewear shop or optometrist's office charges more than you can afford for eyeglasses, consider the following options:
Online Prescription Eyeglass Retailers
Many online eyewear stores sell private label eyeglasses at prices that are significantly lower than what you'll pay at a brick and mortar retail store. You'll still need to see an eye doctor to get a prescription, however.
Warning: This option works best for people with uncomplicated prescriptions. If your eyeglass prescription is complex, ordering online may not be for you.
New Eyes provides eyeglass vouchers for both adults and children. As with the Vision USA program, you must apply through a participating social service agency.