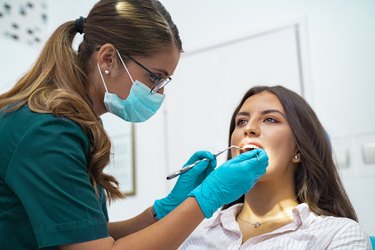 About one in four American adults have untreated tooth decay. Gum disease, another common condition, affects nearly half of the population, according to the Centers for Disease Control and Prevention. Dental services are not cheap, but you can use your health insurance to cover some or all of the costs of treatment. A good example is Florida Medicaid, which covers dental screenings, teeth cleanings, extractions and other services.
Tip
Florida Medicaid covers emergency dental care and basic treatments, such as tooth extractions and dental X-rays. Children and teenagers receive more coverage than individuals aged 21 and older.
Florida Medicaid Covers Dental Care
Cavities and other common dental problems can affect overall health, warns the Mayo Clinic. The bacteria in your mouth may contribute to heart disease, pneumonia and birth complications, among other issues. Gum disease, for example, has been linked to a higher risk of premature birth. Moreover, certain health conditions can increase your risk of oral problems. If you have diabetes, arthritis or Sjogren's syndrome, it's crucial to see your dentist regularly.
Depending on where you live, you might be able to use your health insurance plan to pay for these services. Medicaid coverage varies by state. Individuals under the age of 21 receive more coverage than those aged 21 and older, regardless of location. Currently, most states only cover emergency dental services. An exception is Florida Medicaid, which offers comprehensive dental care coverage.
Children enrolled in Florida's Medicaid program receive dental screenings, dental X-rays, root canals, fluoride treatments, fillings, crowns and other services at no cost, explains the Agency for Health Care Administration (AHCA). Adult beneficiaries, on the other hand, don't have to pay for emergency dental services, such as tooth extractions and pain management. Individuals aged 21 and older may also qualify for additional services, including but not limited to:
Dental consultations and screenings
Basic and deep teeth cleanings
Fillings
Additional dental exams
Instructions for good oral hygiene
These services are tied to your dental plan, according to AHCA. The agency works with several oral health care companies offering dental services to Medicaid beneficiaries. DentaQuest, for example, covers two check-up exams, two dental screenings, two teeth cleanings and two fluoride treatments per year (among other services).
What Other Options Are Available?
Medicaid covers a limited number of diagnostic, preventive and therapeutic services. In some states, such as Alabama and Delaware, it doesn't cover any type of dental work for adults, points out the Center for Health Care Strategies. If you need a dental bridge, implants or crowns, you'll pay out of pocket because these procedures are not considered medically necessary. The same goes for teeth whitening, veneers and other cosmetic treatments. Braces may or may not be covered, depending on your dental plan.
One solution is to purchase dental insurance, especially if you are prone to oral problems. Delta Dental, for instance, offers five different levels of coverage for individuals and families. The most affordable option is DeltaCare USA, which focuses on preventive care. Humana, Cigna and Aetna are worth checking out, too.
If you cannot afford dental insurance, there are ways to get the treatment you need. For example, many dental schools and dental hygiene schools offer low-cost services. This allows students to gain experience while helping others through their work, notes the U.S. Department of Health and Human Services. Individuals with more complex oral conditions may qualify for clinical trials.
Another option is to ask your dentist about financing plans. He may allow you to pay for dental implants, crowns and other more expensive treatments in monthly installments. This option might also be available to those who need braces or several fillings. As a last resort, you may apply for a dental loan or a medical credit card.