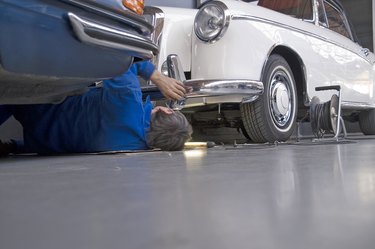 Experienced auto mechanics with a passionate love of old cars find great satisfaction and profitable employment in restoring vintage and classic cars to their original grandeur. The average salary of a classic car restoration mechanic is dependent on experience, reputation, geographical location and employer.
Income
Many automotive mechanics who work for specialty automotive restoration companies are paid a commission or bonus on work that comes through the shop. The U.S. Bureau of Labor Statistics reports that the median hourly wage of auto mechanics was $17.60 as of 2012, a median annual salary of $36,610. Automotive mechanics employed in union shops receive slightly higher pay and benefits that include vacation pay, sick leave, overtime and a pension plan. CSS Auto Restoration reports that their highly trained restoration mechanics, because of their skill levels, earn about $1,160 gross per week, or $60,320 per year.
Job Description
Automotive restoration mechanics inspect and repair classic and vintage automobiles and light trucks. They perform all the typical basic care maintenance such as tune-ups, tire rotations and oil changes. They also diagnose complex problems and execute restoration and repairs. Restoration services may include body work, painting, glass replacement, motor rebuilding, locating hard to find replacement parts or fabricating specialty parts, equipment or accessories. Experienced applicants who show a desire to perform at the highest standards receive preference in hiring and the highest pay.
Qualifications
The majority of mechanics begin their careers by attending vocational or technical schools that offer courses in automotive mechanics. Further training and experience is offered by automotive manufacturers' apprentice programs and on-the-job training. Many classic car restoration specialists have had extensive experience working in an automotive dealership and have developed skills and knowledge of a particular brand of car. Their knowledge provides the background for specializing as a classic car restorer for the particular brand of automobile.
Employment Opportunity Outlook
Opportunities for experienced classic car restoration mechanics are excellent. Many employers have difficulty locating mechanics with the appropriate skills, experience and dedication to excellence required in class car restoration. Mechanics with entry-level skills are likely to face stiff competition.