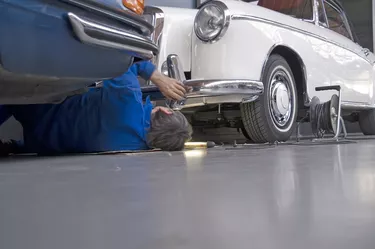 There is unlikely to be a time when car mechanics won't be necessary. A classic car mechanic is a person who specializes in repairing and restoring vintage cars. This restoration helps maintain their value and helps them run efficiently so their owners can enjoy them. How much does a car restorer make? Their specialized skills make their income higher than the average auto mechanic salary.
Vintage Car Mechanic and Average Auto Mechanic Salary
The United States Bureau of Labor Statistics (BLS) compiles and studies income data for most industries in the country. According to the BLS, automotive service technicians and mechanics earned an average salary of ​$46,880​ in 2021. Those paid hourly wages earned an average of ​$22.54 per hour.​ As you might expect, someone with more specialized skills has the potential to earn more money but not very much. ZipRecruiter mentions that the average income of a classic cars mechanic is around ​$50,000​, and the top 90 percent of earners make over ​$58,000​.
You might increase your earning potential by getting your license to be a dealer. That way, you can be an old car mechanic who restores cars that need work, and then you can take the opportunity to sell them to collectors for a higher profit. You'll get to do what you love and make a good living for your family.
How to Become a Classic Car Mechanic
One of the necessary qualifications for being a classic car mechanic is a love for vintage cars. Much of your work will be painstakingly meticulous, but it won't feel as tedious if you have a passion for the job. Most jobs for auto mechanics of any kind require a high school diploma or equivalent, and many high schools offer technical and vocational training. If yours has an auto repair program, you should enroll. Either way, you should enroll in an auto mechanic training program when you graduate high school or get your GED.
Some auto repair programs will teach you how to work on classic cars. As you interview for potential programs, you will want to ask them about classic car repair. You'll want to choose the program that spends the most time on that aspect of the job.
The best way to learn about classic cars or vintage vehicles is by gaining hands-on experience. You should look for a repair shop specializing in repairing old autos. You may need to accept a lower hourly wage or salary in exchange for further education. It will be worth the temporary lower wages when you have gained the skills you need to do what you love.
Where to Work as a Car Restorer
If you want to restore cars for a living, you'll need to look for a job more specific than just an average auto mechanic, even if you have those skills. In the beginning stages of your career, your best bet is to try to gain employment at a repair shop that is known locally for repairing classic cars. These shops have both the classic cars that you're looking to learn how to fix and the experts in the field that you'll need in order to help you gain the necessary skills.
Alternatively, you can look for jobs repairing cars for a vintage dealer. A person who sells old cars will also need to service them before and after they sell them. If you want to specialize in restoring vintage cars that are a specific make, consider working for a dealership. For example, if you're going to fix Mercedes automobiles, a Mercedes dealer might be the best place to work.