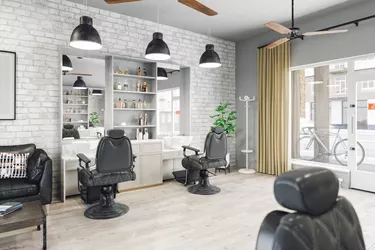 While trends in hair cutting, color and care are always changing, barbershops will probably never go out of style. If you believe this statement and are thinking about opening up your own shop, you are likely wondering if a barber owner salary will be enough to support your lifestyle. Should you pursue this path and it proves to be successful, you may find career satisfaction and the monetary rewards that come along with it.
Owner of a Barbershop Description
These days, barbers are also called hairdressers and while most barbershop owners start out cutting hair, others inherit shops or take them over from others. The writers at Betterteam explain that barbers mainly serve male clientele and cut, trim, color and style hair; they also groom facial hair and may also provide manicures, pedicures and massages. Barbers have to get licensed by their states before they can work in barbershops.
Barbershop owners can work as barbers in their shops, but they also have to manage and pay their employees, maintain inventory and pay bills while earning their barbershop owner salaries. They also get involved with maintaining the workspace, marketing to get new customers and hiring subcontractors when needed. Barbershop owners also spend considerable time handling administrative tasks, like taking appointments and cleaning up when they have to.
Owner of a Barbershop Education Requirements
There are no formal education requirements for owning a barbershop other than a barber's license if you plan to work on customers; this runs around ​$6,500​ to ​$10,000​. A business background can help, but is not necessary. Writers at Truic explain the steps for opening up a barbershop, which involves devising a business plan to determine the shop's name, target market, location and pricing. Startup costs include the office space rental or purchase, construction to make sure everything is up to code, licenses, permits and marketing materials.
Shop equipment like cash registers and inventory like chairs and scissors can all add up to around ​$35,000​ to ​$40,000​. You will also want to create a website for your barbershop. Ongoing expenses include mortgage or rent, payroll, supplies, insurance, maintenance, cleaning and, of course, taxes. You can save money by hiring the barbers as independent contractors. They pay owners to use the chairs by renting them or giving the owner a portion of the income; the latter generally ranges from ​30 to 70 percent​.
Barbershop Owner Salary and Industry
Men's Hairstyles Today reports that barbers average approximately ​$35,000​ a year, with a range of ​$30,000 to $40,000​. This translates to ​$14 to $18​ an hour or ​$110 to $150​ a day, using an eight-hour workday as a model. Tips are not necessarily considered in these figures, either. Highly sought-after hairstylists and barbers who work in large cities like Los Angeles can earn in the six-figures, especially when they have stellar reputations.
Ziprecruiter claims that the barbershop owner annual salary ranges from ​$18,000 to over $100,000​, with the median at ​$53,772​. Wealthier areas have wealthier customers and highly populated areas have more clients, so it is not surprising that the median barber owner salary is ​$142,000​ for San Francisco, ​$125,000​ for Las Vegas and ​$145,000​ for New York City. The overall employment for barbers is expected to grow by ​19 percent​ from 2020 to 2030, so you can rest assured that there will be a continuing need for barbershops, as well.