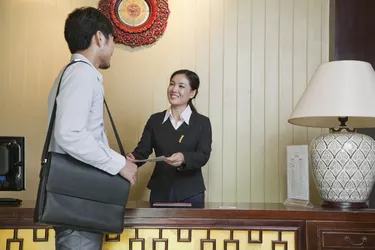 Bed-and-breakfast managers control and manage the availability of the facility, from booking rooms to delegating work to prepare the rooms prior to guests' arrival. Bed-and-breakfast facilities are known for personalized service and a guaranteed breakfast after an overnight stay, so the manager is responsible for maintaining the services and personality of the facility. A manager's salary is influenced by whether the facility is privately owned and where it is located.
Bed & Breakfast Manager's Average Salary
The U.S. Bureau of Labor Statistics identifies managers working in hotels, motels and other travel accommodations, including bed-and-breakfast facilities, as lodging managers. The average salary for a bed-and-breakfast manager is $26.23 per hour, which is a yearly income of $54,570, according to the bureau's 2010 salary data. Staff who manage privately owned bed-and-breakfast facilities may earn anywhere from $14.16 to $42.27 an hour, the lowest and highest salary information presented by the bureau.
Location of Bed & Breakfast
Each state has a different mean average for lodging managers, including those who manage bed-and-breakfast inns. Those in Vermont earn an average of $67,990 a year, which is significantly more than those working in Wyoming, who earn an average of $42,770 in income, according to the bureau's 2010 salary data. Hawaii is a higher-paying state; its travel accommodations businesses, which includes bed-and-breakfast inns, pay their managers an annual average of $72,750 in income.
Local Bed & Breakfast Manager Salary
A bed-and-breakfast manager's salary also varies by county or city within each state. Sandusky, Ohio, managers earn $36,250 in annual income, while those working in Paso Robles and San Luis Obispo, California, have an approximate income of $43,610, according to the bureau's 2010 salary data. Again, privately owned bed-and-breakfast facilities may pay less than the actual mean averages provided by the bureau, as the owner decides the actual salary for managers and other employees.
Additional Information
The bureau explains that bed-and-breakfast managers and self-employed managers, such as those managing and operating an independently owned bed-and-breakfast, may have limited employment opportunities because there are more established chain lodging and hotel options available to travelers. The salary information provided by the bureau may not be accurate for a manager starting his own bed-and-breakfast facility, as revenue from guests may not be guaranteed.