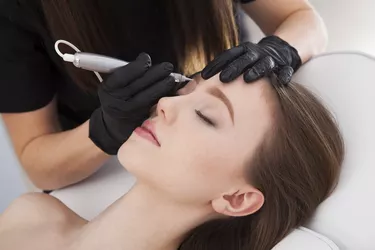 Not all tattoo artists apply tattoos for purely decorative reasons. Others work as medical tattoo artists or permanent makeup artists. A medical tattoo artist salary can be similar to a permanent makeup artist salary, but it all depends on the type of employer and location. Many of these hard-working individuals enjoy the benefits of earning an excellent reputation, so it is common for clients to seek out their services and return to them time and time again.
Permanent makeup artist/cosmetic tattoo artist professionals use rotary pen machines, coil tattoo machines and their hands to apply tattoos that mimic makeup, like eyebrows, eyeliner, lip color and more. The goal is to create a better appearance, which can mean more thickness or a deeper tone.
The tools and techniques vary based on the client's needs and desired outcome. Microblading is one of the most popular procedures; this is a semipermanent technique using a microblading pen that dispenses ink to create the look of shapelier eyebrows.
Medical tattoos differ because they serve two purposes; they are used for medical and cosmetic reasons. According to the Florida Tattoo Academy, medical radiation tattoos are used as guides to show technicians where radiation has to be administered. These tattoos can also be used instead of medical alert bracelets. Other uses include creating tattooed areas for mastectomy patients, hiding scars and helping patients who have skin pigment issues. Tattoo artists work at tattoo salons and medical facilities, but some of the most successful ones are self-employed.
Although many tattoo artists learn on their own or get apprenticeships with working tattoo artists, for hygiene and safety, it is best to get some formal training first. Tattoo school teaches students how to create tattoo designs and helps students get their license. Some tattoo schools offer apprenticeships at their parlor for students who complete the courses.
Schools like the Sauler Institute of Tattooing offer medical tattoo artist training and other permanent makeup education courses, and some of their graduates go on to earn very respectable livings. Some of the classes focus on 3D and 4D techniques, and options can include virtual, on-site and hands-on training. Specialized classes usually last a few days or more and can cost around $5,000 each.
Typically, tattoo artists in this industry work in a tattoo studio as an independent contractor and rent a booth, much like hairstylists. They may also be self-employed and start their own tattoo shop.
Working in the tattoo industry can mean spending a lot of time on consultations with clients at your tattoo parlor, being sure that your artistic style aligns with the artwork they are seeking. Since tattoos are an art form and are highly subjective, it's important to find the right clients, grow your business through word of mouth and use modern tools, like social media, to gain recognition.
Job Mobility and Career Growth
How much do tattoo artists make? Tattooists experience a wide disparity in pay across the board. While a high-producing cosmetic tattoo artist's annual salary could be quite respectable, another's could be much lower.
Are you wondering how much tattoo artists get paid on average? According to Zippia, the average tattoo artist salary is ​$51,867​ a year, with a range of ​$24,000 to $108,000​. It also shows that those with tattoo artist jobs in Pennsylvania, Alaska, New York, Massachusetts and California earn the most. The cost of living may be higher in some of these states, though, so this may cut down on the benefit of the higher salary a tattoo artist earns in some places.
SimplyHired published data showing that an average medical tattoo artist's salary is somewhat less than other categories of tattoo artists. Their average pay is ​$64,694​, with a range of ​$30,413 to $137,615​. These artists may also need a formal education that other experienced tattoo artists don't have, particularly if they are working at a medical facility.
Pay structures influence these statistics, so keep in mind that while some tattoo artists are paid an hourly rate, others are paid by the tattoo or are on salary, and still others work part time. Good work means more tips, and this definitely contributes to the earning potential. Working for yourself as a shop owner rather than being an employee of a beauty company can also help you to increase your earnings. As your years of experience increase, chances are good that you will see your average salary increase in kind.
According to the U.S. Bureau of Labor Statistics, the job outlook for cosmetologists, like permanent makeup artists, is good. (The BLS does not specifically note permanent makeup artists in its salary information handbook, though.)
Between 2020 and 2030, jobs in this industry are expected to increase by 19 percent, which is much faster than average. The employment change over the same period is expected to be 119,800.