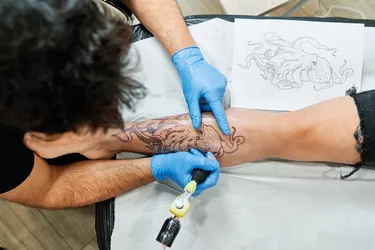 Wings sweeping across shoulder blades or a tribal tattoo on an ankle – tattoo artists change people's skin with various colors of ink and make a picture that will be viewed by many people. Tattooing can be a dangerous profession, and an artist needs to understand things like bloodborne pathogens and sanitation before he can pick up his needle and start work. The state of Ohio does not license tattoo artists to ensure safety and quality but keeps a close watch on tattoo parlors themselves.
Tattoo artists create designs on skin that stay with a person for the rest of her life. Since needles are involved, tattoo artists are exposed to body fluids, skin, and other biological hazards. Some local jurisdictions in Ohio regulate tattoo artists to ensure that they are working safely for themselves and their clients. Each aspect of licensing either increases a tattoo artist's knowledge of his field or of public health.
In Ohio, licensing is under local health departments' jurisdiction, not a state agency. If you want to find out the specific requirements for the town or county where you want to operate, contact the health department and explain your ambition. The representatives working there will give you a specific list of training that must be completed.
Once you have all the training done, fill out the application and show that you've completed the requirements. Pay the fee when you hand in your application, and the license will be mailed to you.
Art Education Requirement
You must complete a training course in tattooing before you can become a licensed artist in Ohio. Training courses are available in many places all over the country. Tattoo artist training focuses on skin art, basic art techniques, and the use of tattoo shop equipment like needles and ink. Some local health departments might require an internship at a licensed tattoo parlor before you qualify to do tattoos on your own.
Health Education Requirement
You must complete a course in sterilization, first aid, and blood diseases before you can earn a license to tattoo others. Sterilization helps you protect yourself and your clients from the effects of dangerous diseases. It is usually part of tattoo artist training, so you don't have to register for additional programs. The local health department that administers the tattoo artist licenses will be able to direct you to a facility where you can receive the proper training in blood diseases and first aid.
Ohio Tattoo License Requirements Hamilton County
Hamilton County Public Health (HCPH) issues licenses for tattoo facilities (often called body art facilities) within Hamilton County. This public health office doesn't issue tattoo licenses for body art facilities in Cincinnati, Norwood, or Springdale. (These cities have their own health departments and the licensing rules may differ.)
To be licensed to operate a body art facility in Hamilton County, you are required to submit three documents:
An Infection Control Form
A Plan Review Request Form
You will also need to equip your tattoo facility with a hand sink equipped with hot and cold running water in the area where you will be seeing clients. The floor in this area must be smooth and washable (for example, a tile floor).
You are responsible for training all your staff in proper infection prevention and control procedures. HCPH may take up to ​30 days​ to issue a new tattoo license. The cost is ​$300​; payment may be made with the application or when the inspector visits your tattoo facility. You will need to pay the fee annually to renew your license.
To find out the specific Ohio tattoo license requirements for your area, reach out to your local public health agency. It will have the current forms and information if you want to open a tattoo facility. You'll find out all the steps you need to take to stay compliant.