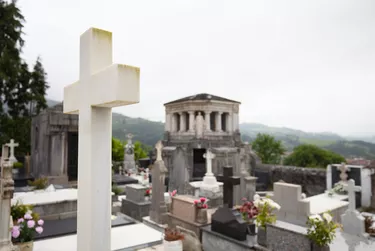 Cemetery sales representatives help people make decisions regarding final expenses, whether for themselves or for family members. Final costs include caskets, markers, urns, crematory expenses and burial expenses. Cemetery sales representatives help families make arrangements when their loved ones have died, referred to as at-need sales, and help people plan ahead for their final expenses, referred to as pre-need sales.
Pay Structure for Funeral Home Sales Reps
Pre-need sales counselors typically work out of the office running sales leads. The counselors either set their own sales leads or the company has a team of employees that set leads for them. Pre-need sales counselors work on a commissions-only based pay structure.
At-need sales counselors are those who work in the office, helping families make immediate arrangements for their loved ones who have died. Typically, if the at-need sales counselor does not make a certain level of sales during the week, he is paid an hourly salary in lieu of commissions. This structure may vary by funeral home and is subject to state and local laws, so it's important to research the regulations in your specific area if you are considering a career in this field.
State laws can affect a cemetery sales counselor's wages, sometimes dramatically. Some states, called noncombination states, have laws that prohibit one company from owning both a funeral home and a cemetery. According to ICCFA, this is done to avoid a monopoly.
Other states allow one company to own both a cemetery and funeral home; these are referred to as combination states. The wages for a cemetery sales rep in a combination state may be higher because they can sell funeral products as well as cemetery products.
Average Salary for Grave Sales
According to the National Funeral Director's Association, the funeral industry generates ​$16.323 billion​ annually in revenue. Working in this industry can be lucrative for those with the right personality and skillset.
The average annual salary for sales representatives in a funeral is ​$66,562​ per year, according to data from ZipRecruiter. Per data from Glassdoor, the average salary for sales representatives at a cemetery specifically is $72,912. A cemetery owner salary is usually much higher, starting at ​$76,000​ when first getting started with the business and going up from there, per data from Truic. A cemetery owner salary could actually be lower than that of a sales representative, depending on how much the sales rep is able to sell.
This number can fluctuate widely depending on whether the state allows combination cemetery-funeral homes and the size of the market in which the cemetery or funeral home is located. Cemetery sales representatives working in larger cities tend to make a higher income than those working in smaller cities, but the salary of a cemetery salesperson is also heavily impacted on their sales ability.
Commissions and Bonuses for Cemetery Representatives
Cemetery sales representatives can often achieve weekly and monthly bonuses based on their sales amounts. Different products and services often come with different commissions. For example, a company may pay 15 percent commission on a pre-need sales contract, but only 5 percent commission on an at-need sales contract. These types of commission structures can also affect the average annual salary for cemetery sales reps.