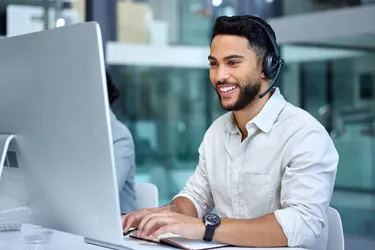 Home security has never been more critical, thanks to rising crime rates, and an ADT sales rep salary reflects that fact. Some ADT representatives are paid only commissions on sales they make, while others earn a base salary plus commission. Either way, you can make a comfortable living on an ADT sales consultant salary with hard work. Below, read about ADT salary ranges, how to become a sales representative with ADT and tips for succeeding in the field.
ADT Salary Ranges and Pay Structures
If you're interested in becoming an ADT sales representative, your potential earnings depend greatly on your pay structure. They will also depend on your geographic location and the market at the time of your application, as is the case with most jobs. Some sales reps earn a base salary plus commissions on sales, while others live entirely on commissions. ADT pay has also increased over the years to keep up with inflation.
The most significant advantage of earning a base salary is guaranteed income, regardless of sales. This can be a tremendous benefit, especially early in your career while you're still getting established. However, your commission rate will almost certainly be lower and may even have a cap, limiting how much money you can potentially earn every month or year.
ADT's average sales rep salary is around ​$30,000​ per year before commissions. Including commissions, ADT sales reps earn anywhere from ​$40,000 to $90,000​ or more annually. How much is a remote customer service representative ADT salary? The support staff do not earn a commission and are typically paid an hourly wage. The national average is ​$15.91​ but can be as low as ​$8​ or as much as ​$24​.
How to Become an ADT Sales Representative
Because many sales reps are hired on commission only, ADT can be less selective about who they hire. If you're interested in a career with ADT as a sales representative, you'll need at least a high school diploma or equivalent. You must have a valid driver's license with a clean driving record, and you'll need to be able to pass a background check. Prior sales experience, even in retail sales, is a huge plus.
ADT is a large company, and its sales force is stratified. In many cities, the top paid sales representatives working for ADT aren't in home security at all. Instead, they sell products to businesses, including banks and corporate accounts.
These more prominent and intricate clients require more time, but the payoff and commission rate are always larger. In addition, sales reps can continue working with these clients to refine their services and better meet their needs. Many ADT corporate sales representatives started selling home security systems. Either way, some prior sales experience is required.
Tips for Succeeding in ADT Sales
Hundreds of books have been written on how to succeed in sales, and many of those general principles also apply to selling home security. Relating to your potential customers, being personable, following up and having a good reputation is essential.
Specific to ADT, you'll need to explain the benefits of working with ADT instead of newer, do-it-yourself home security systems like SimpliSafe. You should also be aware of the reasons why people terminate their ADT services and how to counter those motivations.
Many ADT sales reps start by selling security systems to friends, family members and acquaintances for their homes and businesses. Eventually, you'll grow your client base, reputation and business with enough hard work.