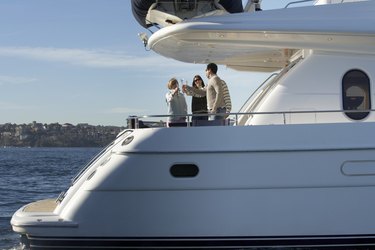 A ship broker is a middleman between ship owners and those who want to buy or charter ships. He arranges the details of a ship purchase and shepherds the negotiations through various stages, from the proposal to the final contract. Major shipping concerns hire brokers to negotiate shipping contracts for ship purchases and sales.
A Variety of Skills
Good sales and people skills are essential for success in this field, since ship brokers must build a strong network of contacts. Ship brokers should possess business acumen, strong organizational skills and the ability to meet deadlines. In addition, ship brokers must be positive, flexible and willing to travel.
On-The-Job Training
Previous experience isn't necessary to become a ship broker, since most relevant skills are learned on the job. However, some trainees have college degrees and others come from the merchant marine. Some universities offer shipping business degrees, and the Institute of Chartered Ship Brokers offers an online study course.
Salary
Ship brokers earn a monthly salary, but a good deal of their remuneration comes from sales commissions. The salary for a ship broker just starting out is $2,500 to $3,000 per month. However, according to the jobs website Indeed, the average annual salary as of 2014 was $102,000. In cities like Stamford, Connecticut, or New York, the average topped $140,000 in 2014.
Job Outlook
Though there isn't information on ship brokers, the Bureau of Labor Statistics has an outlook for a similar job, that of freight agents. The U.S. Bureau of Labor Statistics forecasts a 24 percent employment increase in this job category through 2018, which is better than the national average. Logistics and shipping are expected to increase as global trade continues to increase.