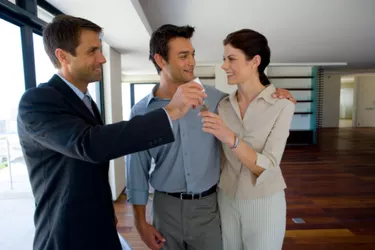 Realtor commissions are always negotiable, despite the fact that many real estate brokers have standard commission percentages or flat fee rates. Typically, you can expect to pay around 5 to 7 percent commission on the sale of your home assuming you hire a real estate salesperson to perform all the standard sales duties in selling your home.
Realtor Basics
Realtor is actually a registered trademark of the National Association of Realtors. Not all real estate agents are Realtors, but most are because of the benefits and marketing support they get through membership. Agents typically represent buyers or sellers in a real estate transaction. Sellers hire a listing agent to list the property through a multiple listing service and market it. The seller generally pays an agreed upon commission to the seller's brokerage company. This fee is split with a buyer's agent, if any, and each agent often splits some of the commission with his respective broker's office.
Common Percentages
For a long time, 6 percent was viewed as a standard real estate commission in many U.S. markets. Housing market struggles that have increased supply of lower valued properties have prompted Realtors to accept a lower commission and sometimes negotiation unique contracts. In a January 2007 guide, "Real estate commissions: What you need to know," RealEstate.com noted that commissions averaged closer to 5 percent at that time, as many agents were more willing to accept a 2 to 2.5 percent commission split due to the tough marketplace.
Negotiations
As noted, real estate agent commissions are virtually always negotiable. Similar to job interviews, the Realtor may tell you what the standard rate is, but he may also have some flexibility if he really wants to sell your home. In her MSN Real Estate article "3 ways to pay lower real-estate commissions," Debora Vrana advises home sellers to ask several area agents to do a free market report and estimate your home's price. You can often requests these online. Then, interview the agents who respond, tell them what you expect for the house and ask if they will lower the commission. In highly competitive markets and for higher priced homes, you may get a commission closer to 2 percent.
Flat Rate Effect
Another reason average Realtor commissions have dropped is because of increased competition from discount brokers and flat-fee realty services, indicates Vrana. Discount brokers operate efficient operations and often reduce add-on services to enable lower commission rates. Flat-fee services have emerged that lure home sellers with promises of one lower price for their services regardless of the home's price. This is especially enticing for higher-end property sellers who would pay much more on a 5 to 6 percent commission.