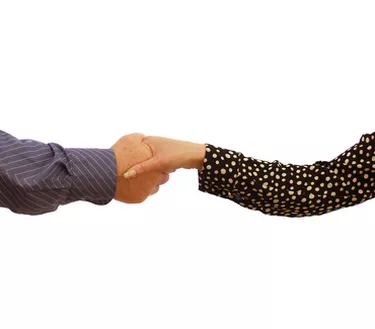 Although the rule of thumb for real estate brokers remains a 6 percent commission, in reality that commission is negotiable and can vary greatly depending on the role that the agent plays, the type of property and the size of the property. Ultimately, finding the right fee is a matter of combining all of these factors together.
Traditional Residential Agreements
The typical fee for a full-service residential real estate broker is 6 percent of the sales price. Typically, the entire fee is paid by the seller to his agent. The seller's agent keeps a portion of the fee for herself, and pays the remainder to the agent that represents the buyer. In many cases, the nature of the fee-sharing is defined by the Board of Realtors or the Multiple Listing Service for a given area. A number of real estate agents have also entered the market on a cut-rate fee basis. Although reducing what you pay your listing agent may be a good way to save some money, reducing the commission to a buy-side agent can frequently result in that agent choosing to work on other properties in the MLS that carry higher fees, reducing your property's exposure.
Private Capital Investment Properties
Fees for investment properties can vary greatly. Although houses bought for investment purposes typically will carry similar fees to houses bought as owner-occupied residences, properties like apartment buildings and retail centers are less predictable. Typically, harder-to-sell properties such as raw land and class C apartment buildings will carry higher fees than easy-to-sell properties such as high-quality apartments or single-tenant net-leased assets. Fees also usually go down as the price of the asset increases. When considering the fee on an investment property, you should inquire as to whether the cost of cooperating with an outside broker is included. Many brokers quote low fees, but will not compensate a buyer's broker, requiring that broker to get her fee from her buyer, resulting in a lower offering price. Ultimately, you end up paying the fee.
Institutional Investment Properties
Institutional properties, which are typically defined as those costing more than $20,000,000, tend to carry relatively low fees on a percentage basis. In fact, many are sold on a flat-fee basis, and many are handled by investment banks instead of real estate brokerages. Although the fees as a percentage of the selling price may be quite small, the actual dollar amounts can be quite large, falling between $200,000 and $750,000, depending on the size of the asset.
Buyer's Agent vs. Seller's Agent vs. Dual Agent
Agents performing different roles can receive different fees. Typically, the seller's agent receives the entire fee for the transaction and keeps some for himself while also paying the fee to the buyer's agent. In a commercial transaction, on the other hand, it is very common for a buyer to have to pay a fee directly to her agent. In these instances, the fee is usually cut in half with the seller's agent receiving 1 to 3 percent from his client and the buyer's agent receiving 1 to 3 percent from her client. Dual agents who represent both buyer and seller are relatively rare in residential transactions but are extremely common in commercial ones. They usually receive the entire fee although, in some cases, their total fee may be slightly less than what separate buyer's and seller's agents would receive.
What the Salesperson Actually Gets
Although commissions may look like a significant expense, the salesperson receives less than most clients realize. Consider a buyer's agent on a $300,000 home. At a 6 percent fee, that transaction generates $18,000 in fees, of which half stays with the listing agent. The buyer's agent's broker receives $9,000 in fees, of which he typically retains half, leaving your salesperson with a $4,500 check with which to pay her overhead and receive compensation for her work. Although some residential brokerages offer much higher splits, those high splits typically come with high fixed costs.