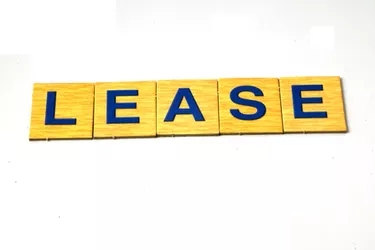 An auto lease contract can save you money and keep you driving a new car every two to three years. Comparable to renting a car, leasing makes sense for the driver who wants a short-term commitment, drives few or an average amount of miles per year and inflicts minimal wear and tear upon their vehicle, says Edmunds.com. To obtain a car lease, you must follow a few other stringent requirements.
Credit Qualifying
You'll need a spotless, or near spotless credit history to obtain the lowest interest rates--below 1 percent--on an auto lease, says Lease Guide. Leases pose a higher risk for the lending company. Because you will tie up the lender's money as you drive the car and its value depreciates, the credit requirements for leasing are generally more strict than with auto purchase loans. Lease Guide recommends fixing errors, 30-day late payments, collections, judgments or any other factor bringing down your score before shopping for a lease, because bad credit will increase your interest rate or prevent you from leasing all together.
Up-Front Costs
You must pay tax, title and registration fees to start the lease. In general, minimum up-front costs also require the first month's payment, says Automotive.com. Some lenders and dealers may include an "acquisition fee," or loan origination fee in the costs. Although the fee is not illegal, it must be disclosed, not hidden or included in a lump sum.
Termination Requirements
Most auto leases are considered "closed-end" because they have a definitive end date on which you can return the vehicle and simply walk away or buy it. If you terminate the lease agreement, either voluntarily or involuntarily, you must pay penalties and even the remaining balance. When totaled in an accident or stolen, the lease ends automatically and your insurance carrier will have to reimburse the lender. If the reimbursement amount is insufficient, you're responsible for the remainder. In order to terminate a lease, a lender may require you to pay off the remaining lease balance to release you from the agreement, or a lender may simply require a flat-rate termination fee. The termination requirements are provided in the initial lease contract.