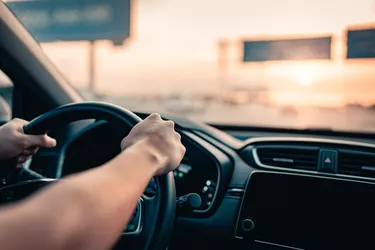 If you need a vehicle, leasing one for a few years might seem more appealing than taking out an auto loan for five years or longer. The Federal Trade Commission says that car lease payments tend to be more affordable since you're mainly paying for depreciation and interest. However, you'll want to take any actions to reduce your payments before you sign your lease forms since you usually can't make changes afterward. If you do become unable to afford the lease, you can face hefty fees for ending the lease early.
Consider Your Car Carefully
While a lease payment includes many items, Buerkle Honda explains that the monthly depreciation makes up the bulk of your monthly cost. The dealer calculates this by subtracting your car's residual value at the end of the lease from the capitalized cost and then dividing it by the number of months in your lease term. Therefore, depreciation especially boosts your payments when you get a car that loses value quickly and will have a low residual value.
If you're interested in leasing a new vehicle, it helps to research models that depreciate slowly and steer away from those that lose half their value or more over the lease term. You could also opt to lease a used vehicle where the bulk of the depreciation has already been accounted for. However, keep in mind that you could come across issues such as no warranty included or have to forego more recent models with technology features you'd enjoy.
Like with taking out an auto loan, your lease will involve paying interest with each monthly payment, but the terminology is different and is known as the money factor. To get a lower lease payment, you'll want to get the best interest rate possible, and that's where your credit score comes in.
If you have a good credit score, you benefit from lower interest charges and thus lower lease payments. On the other hand, poor credit scores can lead to significantly higher lease payments due to the higher interest charges. The Massachusetts Office of Consumer Affairs and Business Regulation cautions that this is especially an issue with used car leases.
You might take some time to reduce other debt and get your accounts current to raise your score before leasing. You might also seek a co-signer with great credit to improve your chances of lower car lease costs.
Negotiate Lease Payments With the Dealer
You'll want to choose your lease terms carefully to have an affordable car lease payment, and you can ask your dealer about options.
You could reduce your lease payments simply by choosing a longer term. However, this can cause frustrations such as the car going out of warranty, a higher desire to end the lease early and the fact that the lease payments don't build equity. You could also ask to negotiate interest charges and dealer-related fees to reduce your payment but keep in mind that mandated fees and taxes as well as the car's residual value won't be negotiable.
The dealership might have some lease specials that offer an attractive low payment and low interest charges. However, be aware that such offers can require especially good credit, have low annual mileage caps and usually only apply to certain models. In addition, you may need to make a hefty down payment, which the National Credit Union Administration advises against.
Know Options During a Lease
You might wonder, "Can you refinance a car lease?" While you could opt at the end of the lease period to buy the vehicle with a loan and negotiate the terms then, you won't have as much luck getting a dealership to lower your payment during the lease term. However, it's still worth contacting them to explain your situation and ask about options that can prevent further action, such as repossession.
For example, you might opt for an early lease termination so that you can find a vehicle you can afford. However, Chase warns that this can cost you thousands in costs calculated from your car's lease payoff amount minus the realized value.
Alternatively, you could consider having someone take over the lease with the permission of the leasing company. You could also go through a voluntary repossession, but this is the least ideal option since you can face both severe credit damage plus costs due.