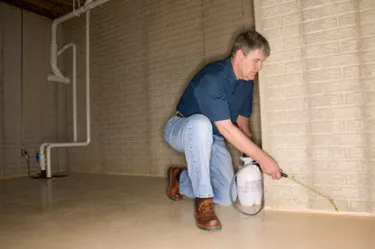 Exterminators, also known as pest control workers, remove and eliminate unwanted bugs and rodents from homes, businesses and other areas. The U.S. Bureau of Labor Statistics (BLS) predicts fast employment growth in this occupation and very good job prospects. Most exterminators earned at least $24,000 per year as of 2009.
Salary Range
The average salary for exterminators was $15.43 per hour as of May 2009, or $32,100 per year, according to the BLS. The middle 50 percent of exterminators were earning $11.98 to $18.01 per hour, or $24,930 to $37,460 per year. The bottom 10 percent of exterminators had salaries of $9.74 per hour or less, and the top 10 percent were making $22.25 per hour and higher, or $46,290 per year and more.
Types of Employment
About 86 percent of exterminators work directly in extermination and pest control services, notes the BLS. They were making $15.36 per hour on average, or $31,950 per year. Much smaller numbers of exterminators were employed with elementary and secondary schools, earning $12.02 per hour on average; with local governments at $16.95; and with traveler accommodation, such as hotels and motels, at $13.92 per hour.
Employment by State
States with warm climates have large concentrations of exterminators, as do large cities, because pests are more pervasive in those areas. Florida has the largest concentration of exterminators in the United States, with 9,730 working there in 2009. The average salary for exterminators in Florida was $14 per hour, or $29,120 per year. Rounding out the top five states for exterminators per capita were Alabama, with an average hourly pay rate of $12.94, South Carolina at $14.15, Georgia at $15.69 and Louisiana at $13.69.
Employment by Metro Area
Punta Gorda, Florida, had the most exterminators per capita by metropolitan area in the country in 2009. The average salary there was $17.22 per hour, significantly higher than the Florida statewide average of $14 per hour. The other metro areas in the top five for exterminators per capita also were in Florida. The average salary in the greater Bradenton area was $13.44 per hour, in Ocala $13.01, in Cape Coral-Fort Myers $12.55 and in Port St. Lucie $13.97.