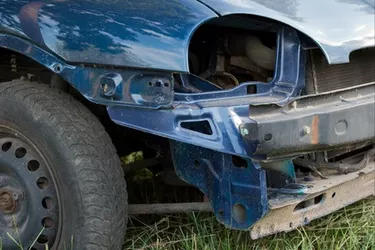 An automobile, according to Maine's Bureau of Insurance, is often considered a total loss if the cost to repair the vehicle is 75 percent or more than the actual cash value of the vehicle. Actual cash value is based on the year, make and model of the vehicle, as well as any additional options, body condition and mileage. To calculate a total insurance loss and receive a fair settlement from the insurance company, you need to research the actual cash value of the vehicle and provide documentation supporting your research.
Step 1
Look up the actual cash value of the vehicle at Internet sites such as Kbb.com and Edmunds.com. Both sites allow you to easily enter information about your vehicle and receive an instant estimate of the private party value, the retail value and the trade-in value. The actual cash value of the vehicle, as determined by the insurance company, usually falls between the private party value and the retail value.
Step 2
Contact local dealerships in the same geographical region (usually about 100 miles) and request quotes on vehicles that are similar in year, make and model. Ask the dealership to fax or email you a quote sheet that you can present to the insurance adjuster.
Step 3
Ask for an independent appraisal. To ensure the insurance company is treating you fairly, ask for an appraisal from a body shop that is not affiliated with the insurance company. Insurance companies often work with preferred body shops; while this can often expedite a claim, the body shop is not always concerned about your best interests.
Step 4
Present your research to the insurance adjuster. Chances are the adjuster has already decided on a value for your automobile. Remember: This value is always negotiable and providing verifiable research often can substantially increase your offer.