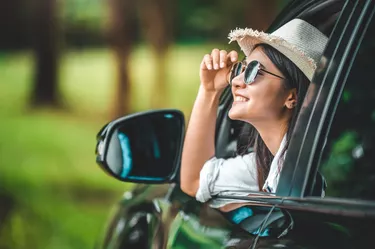 Finding car insurance for international drivers visiting the U.S. can be difficult. Tourists may get coverage from car rental companies, but that's not an option for those staying longer in the country. If you have friends or relatives visiting from overseas, consider adding them to your insurance policy. Note, though, the rules are different for foreign drivers who bring their own cars.
Tip
Your insurance carrier may allow you to add foreign drivers to your policy, but only if they have an International Driving Permit. Expect to pay an additional fee or higher premiums for this service.
Car Insurance for International Drivers
Foreign nationals driving in the U.S. are subject to the same traffic laws as any American citizen. Depending on the state, they may use their driver's license or an International Driving Permit (IDP), explains the official website of the U.S government. In either case, it's mandatory to have a valid car insurance policy. As a tourist or visitor, you can bring your car, rent one or drive another person's vehicle. With the latter option, you must ask that person to add you to their insurance policy as a named driver.
If you have an accident on the road while driving someone else's car, their insurance policy may not cover the damage unless you're listed as a named driver. Even if their policy covers the damage, the claim may affect their coverage, resulting in higher premiums. These regulations vary by state, notes the Insurance Information Institute, but generally, most insurers will only cover the drivers listed on your policy. However, you may not be held liable for any damages if your car is stolen or used without your permission.
Most states won't allow drivers to insure a car they don't own. For example, drivers based in New York cannot register a new vehicle without insuring it, but they may list a second driver on their policies. The named driver must sign a form called Vehicle Registration/Title Application, according to the state's Department of Motor Vehicles. In such cases, it can be difficult to add a foreign driver to your policy. Other states allow licensed drivers to purchase non-owner insurance, but this option may or may not be available for foreign nationals.
Adding Drivers to Your Policy
Your insurance provider will likely allow you to add one or more drivers to your policy. The exact steps and fees may vary from one company to the next. Generally, you can expect to see an increase in premiums after adding a driver to your car insurance, says Travelers. Your driving record and the type of coverage matter, too. Also, note that most insurers will only accept internationally licensed drivers.
First, contact your insurance carrier to discuss these aspects. If your guests have an International Driving Permit, you may be able to add them as named drivers temporarily. Next, provide more information about your friends or relatives, including their name, age, driver's license number and years of driving experience. The insurance company may also want to see their driving record. Once these steps are completed, you may need to pay an additional fee or premium.
If you end up paying more than expected, ask about any available discounts. For example, you may take defensive driving courses, install anti-theft devices or bundle your policies to get lower rates. Some companies also offer low mileage discounts, loyalty discounts and good driver discounts, explains the Insurance Information Institute. Alternatively, you could ask your friend to look for insurance providers that sell coverage to foreign drivers. Progressive, Infinity, Gainsco, Dairyland and Bristol West all offer this option.