Whether you like it or not, insurance is something you cannot ignore or avoid. Many types of insurance are required by law, while others are necessities, and still others are purely a luxury. Regardless of the type of insurance policy, or what it is actually designed to protect, you are not required to conduct business with only one insurance agent. If you are uncomfortable with the agent currently servicing one of your policies, you can change agents while still maintaining your insurance policy. On the other hand, if you believe that your needs would be more appropriately served by another agent at another insurance carrier, you are free to switch companies at any time.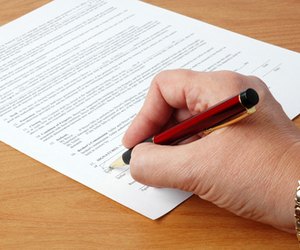 Changing Agents Within the Company
Step
Find another agent representing the same carrier. Most insurance companies, especially those that sell and service automobile and homeowner's insurance, have multiple locations in most towns. If your local town insurance agent is not meeting your needs, but you are comfortable with the coverage you have and the premium you pay, switching to the next closest office location may solve your problem. Look in the telephone book or on your insurance carrier's website for the addresses of other agents in your area.
Step
Visit the other potential agent. Prior to initiating any formal changes, visit the office of the other insurance agency and meet the agent who would be responsible for your account. Ask questions relevant to your experiences with your current agent, and determine if this new office location will satisfy you.
Step
Contact the insurance carrier. Once you have decided on a new agent, call the insurance company that issued your policy and inform them that you would like to have your account serviced by a new agent. Provide the customer service department with your insurance policy number and the contact information for your new agent. If necessary, explain your reasons behind searching for a new agent.
Changing to an Agent at Another Company
Step
Find another insurance company. If you believe your needs would be better served by switching insurance carriers entirely, look in the yellow pages of your local telephone book, or search online, for another agency in your area that is able to provide you with the type of coverage you need. Make a note of the address and telephone numbers of agents within those carriers that meet your criteria, then contact them to discuss your situation. StreetWise.com suggests identifying at least three candidates and interviewing each one before making a final decision. Explain why you are looking for a new insurance agent, why you believe a new carrier will be beneficial, and ask relevant questions to ensure that your previous problems or concerns will not be repeated again by the new insurance company.
Step
Meet the new agent. Schedule a convenient time to visit your new agent in his or her office. Bring your current insurance contract or policy declaration page so that comparable quotes can be prepared from a new insurance carrier.
Step
Purchase a new policy. Once your new agent has provided quotes and discussed the pros and cons of a new policy, complete the necessary paperwork to obtain new coverage. When your new policy is in force, contact your former insurance carrier and provide instructions for terminating your old policy.