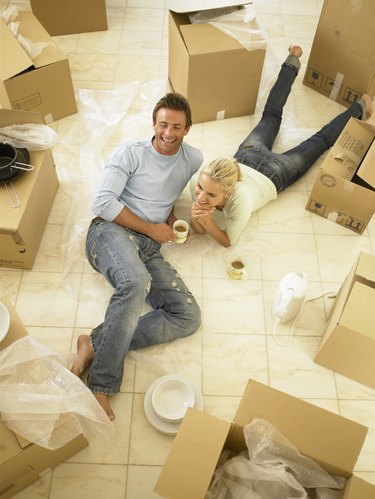 Nothing is more exciting than entering your brand new home upon completion. For new construction you will do a walk through to determine if everything is to your satisfaction and according to your agreement with the builder. Be prepared and expect to spend the necessary time.
Step 1
Schedule your walk through on a day when you can spend at least two hours. Also, be sure it will be a day when you can avoid all other distractions -- consider turning off your phone -- and can devote 100 percent of your attention.
Step 2
Check the electrical. Check interior electrical outlets with your plug-in tester. Check that all receptacles and switches work and have proper polarity. Check that the GFCI receptacles (receptacles installed in wet areas to guard against shock) are working. Make sure that switch plates and receptacles are the proper color and installed squarely throughout the house. Check that all switches, telephone jacks, network jacks, cable TV jacks and the door bell are working. Check the electrical panel to see if all circuits are working and labeled properly. Ask for the final electrical certificate.
Step 3
Check plumbing. Check that all fixtures are the ones you chose, have the correct finish and colors and show no scratches, chips or nicks. Check that toilets, faucets, showers, bathtubs and whirlpool tub are working. Check if hot water is heating up correctly and that each zone works properly. Check if the outdoor spigot is working. Ask for the final plumbing certificate.
Step 4
Check walls and floors and cabinets. Check that painting is done satisfactorily in all rooms, closets, hallways and stairways. If touch-up is required, make a note of it. Check that the walls have no dents, scratches, nicks or bad finish. Check if the flooring is properly installed, that carpets are tight at the seams and with no stains and that wood flooring has no scratches or stains. For tiles, ensure that they are installed evenly without any broken pieces. Check for squeaks on the floors and walls. Check that wall coverings are installed properly with no damage. Check all cabinets and counter tops checked for scratches, nicks, cuts or burns. Check that all cabinet doors open and close properly and that all hardware is installed correctly.
Step 5
Check windows, doors and appliances. Make sure both the heat and air conditioning work properly no matter what the season. Check that all keys are acquired. Check for cracks in window and door glass and any condensation. Check that the windows and doors are all working, sealed properly and that keys work for every door. Check that all appliances are the correct models, colors, have no dents or scratches and that they work properly.
Step 6
Check the basement. Check for signs of dampness or mildew on walls as well as cracks or leaks. Check that insulation is properly installed and that no pipes are leaking.
Step 7
Check exterior. Make sure that the exterior house finish matches throughout and that shudders and doors are the proper color. Check for loose siding or stains and cracks in brick, mortar or stucco. Check that the ground is graded properly away from the structure. Shrubbery and trees should be planted 2 to 3 feet away from the foundation. Check that the gutters and leaders are all installed without any damage. Check the roofing for any missing pieces and see to it that the colors match.
Step 8
Address miscellaneous concerns. Check that the job site is clear of all debris. Check that the garage doors are working properly. Make sure that you receive the correct number of garage door openers. Make sure that all paperwork pertaining to the house is received. Make sure to check that all instruction manuals and warranties are supplied. Check that the instruction manuals for care of floors, counter tops and appliances are provided.
Step 9
Review your checklist before you hand it off to the builder and ask for a date to be put in writing by which repairs will be completed.Take pictures of needed repairs for documentation. If everything is in proper order, you can affix your signature and do a sign-off. Make sure to get a copy of the completed check list before leaving the site.
Tip
Arrive on time. The builder will probably be setting aside limited time for the walk through. If you arrive late, you'll be rushed.
Things You'll Need
Plug in tester

Builders checklist if available

Tape measure

Digital camera and/or video camcorder