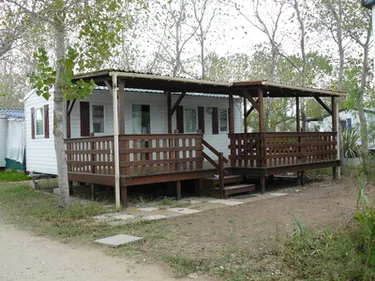 Buying a mobile home is one of the easiest ways to provide affordable housing for your family while keeping your maintenance and repair costs low. While the checklists are lengthy, they ensure that you buy the right home for your family's size, and will save you time and money if repairs are needed.
Structural Checklist
A thorough inspection of the structural elements of a mobile home will reveal a lot about the condition and upkeep of the home. Inspect the roof; you will want ample overhang to stop water from running inside the wall and damaging the insulation and wall covering. Make sure the home has downspouts or gutters to direct water away from the structural elements of the home.
Be sure there is skirting--typically made of aluminum or vinyl--under the trailer and that it is in good shape. Carefully examine the underside of the trailer and look for sagging or torn insulation. If you are buying a previously owned mobile home that is already on a lot or parcel, state laws require the mobile home be secured with tie-downs and anchors that hold the home in place during high winds.
Examine the walls and ceilings. Look for bowed wall coverings and ceiling tiles that may signal water damage. Look for signs of rot or mildew, especially around trim and baseboards where it is difficult to hide damage with mere paint. Carefully inspect the floors for sagging or failure to support. Open all windows and doors and test locks for functionality and safety.
Mechanical Checklist
Mechanical functions of a mobile home refer to the electrical, heating and plumbing elements within a home. If possible, turn on each mechanical element, including light switches, garbage disposals, faucets, toilets and the thermostat. This will provide more information about how the mobile home operates than a visual inspection and will allow you to see if mechanical items work properly. Listen for drips, unusual humming, squeaking belts and any other odd noises that could signal potential repairs.
The circuit breaker box should be able to support 100 amps or higher. Take a circuit tester with you and test outlets to ensure proper electrical current flow. Remove a faceplate from a switch or electrical outlet and inspect the wiring for scorch marks. Also, watch for aluminum wiring, which is a fire hazard and is no longer accepted for use as a conductor. Examine the insulation behind the wall covering for adequacy.
Inspect the heating ducts and vents, checking for blockage, holes that will cause heat loss, and mold. Ask the seller what the fuel source is and contact the supplying company for an estimated budget. The company determines this estimate by reviewing the usage amounts of previous residents.
Plumbing and water heaters tend to pose many problems for new buyers. Supply lines must be copper, CPVC, or PEX tubing. PVC pipes are for drainage and ventilation pipes only since they do not withstand hot temperatures well. Make sure that pipes under the trailer are properly insulated to prevent cracking during cold seasons. Water heaters should be level and be equipped with shut-off valves for repairs and maintenance.
Checklist for Buying New
When buying a new mobile home, ask for all prices and guarantees in writing. Shop around for the best price on relocating and setting up the home. Get up-to-date information and manuals on warranties and appliances. Make sure the seller is licensed with the Division of Motor Vehicles or the Department of Highway Safety and Motor Vehicles. If you are buying a singlewide model, you will receive one title for the home just as you would with a car. However, a doublewide model has two titles, one for each half of the home.
Checklist for Buying Used
If you are buying a used mobile home, you can still ask for a written guarantee promising that all major appliances, mechanical devices and structural elements of the home will be in working order when you take possession. Also, consider hidden extras like sewer costs and maintenance fees, especially when located in a mobile home park. Carefully examine your contract and have any verbal agreements secured in writing. Be sure to pay attention to exterior sections of the lots as well. Ensure there is enough parking for you and your guests as well as ample turnaround room. Also, look at the trees near your home and consider their condition before you purchase the home. You may ask the seller to remove the trees if they pose an immediate threat to the property.