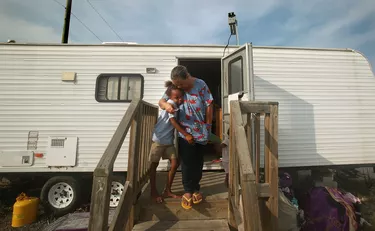 Mobile homes, also called manufactured homes, are a popular low-cost housing choice for many people. Mobile homes have improved greatly since their inception and some now look almost identical to traditional homes. Double wide mobile homes are the width of two single wide mobile homes placed side by side. They provide more interior living space than single wide homes. When purchasing a double wide mobile home, there are several key factors to take into consideration.
Step 1
Get preapproved by a bank so you know how much you can afford to pay for a mobile home and the land, if needed. Save money to use as a down payment.
Step 2
Select the land where you want to place the double wide. Purchase the land if you don't already own it. Check with your city and county zoning departments to verify that you can place a double wide mobile home in that location.
Step 3
Use a tape measure to determine the size of the tract of land on which the mobile home will be placed. Ensure that there is enough space for the double wide mobile home, plus at least an additional 6 feet on each side.
Step 4
Decide what features the home's interior should have, such as number of bedrooms and bathrooms, custom cabinetry, garden tubs and more.
Step 5
Visit several manufactured home dealers and walk through the display homes. Check the quality of the construction, such as wall thickness, whether the home shakes as you walk through it and the overall interior appearance.
Step 6
Insist on getting a warranty from the manufacturer or dealer if the home is new. The warranty should cover structural flaws as well as plumbing, heating, air conditioning and electrical guarantees. Verify that the appliances are also covered by either the home manufacturer or the appliance manufacturer. Make sure the warranty covers leaks and defects around the main seal down the center of the double wide mobile home.
Step 7
Ask about other fees included in the price--including delivery and installation fees--before purchasing your double wide mobile home.
Tip
Just as with a mortgage on a traditional home, the homeowner must pay a down payment of at least 20 percent of the purchase price to avoid paying Private Mortgage Insurance (PMI).
A double wide mobile home can include just about any interior feature that a traditional home has. Of course the more features you request, the higher the cost will be.