Relocating to a new state can be a a stressful experience. If you possess a financed vehicle, you can generally move the car across state lines as long as your loan contract doesn't state otherwise. However, you might run into problems when titling and registering the vehicle in your new state because of different insurance and title requirements. Consider the various issues you might face when moving a financed vehicle out of state so you can plan ahead.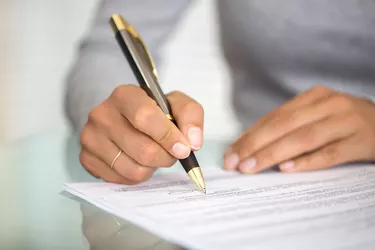 Lender and State Rules
Before you move out of state, check the requirements of your old state motor vehicle department, new state motor vehicle department and your lender. As long as you maintain your full-coverage insurance requirements throughout the loan term and update your address information, you can probably move your vehicle. Many states, however, require new residents to apply for a driver's license within 30 to 45 days of residency. Because of the new driver's license, you'll have to title and register your vehicle within the state that you reside, which isn't an easy switch in some states.
Transferring the Vehicle Title and Registration
You can't keep your vehicle titled in your previous state once you claim residency in a new state. Depending on the state you move to, you might have to refinance the vehicle if your current lender (lien holder) isn't licensed to operate in your state. Upon moving, many states require previous drivers to return their license plates. If you didn't plan ahead, you might find yourself unable to transfer your title and register your vehicle before finding a new lien holder licensed to do business in your state.
Insuring the Vehicle
As long as you maintain full-coverage insurance with proper limits and deductibles, you won't default on your loan. However, once you change your driver's license over to your new state, you must also switch your insurance policy to your new address. Because you'll have to change your current insurance policy's address or switch your policy to a provider licensed to operate in your new state, your insurance provider will electronically update your policy change with your old state's motor vehicle department. To avoid penalties, you must cancel your registration immediately or return your plates, depending on the old state's requirements.
Exceptions and Possible Penalties
If your state allows temporary non-residency, you may move to a different state and keep your vehicle registered, titled and insured in your old state. Qualifying non-residency drivers include college students or military personnel, so check with your state motor vehicle department if you think you might qualify. Many states impose fines for new residents who fail to apply for a driver's license or re-title a vehicle within a certain number of days of moving. Depending on your old state's rules, you might find your driver's license suspended if you don't cancel your registration after moving. You can't apply for a driver's license in a different state when another state has issued a suspension.