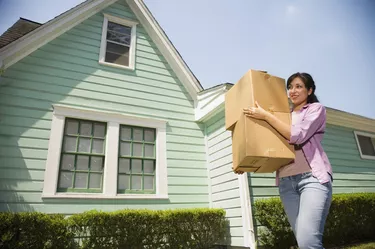 Moving out of your parents' house for the first time is an important step in gaining independence and improving self confidence. Making the move costs money, however. The average cost can vary widely depending upon housing, transportation and other expenses in your area. When figuring your costs, you'll need to include aspects such as transporting your belongings to a new place, monthly fees and commuting.
Before the Move
The initial expense of moving out can be large. Apartments and rental houses often charge application fees and then a deposit that is equal to one or two months' rent. Pet deposits bring an additional fee. Most apartments and houses also require that you have electricity in your name; the utility may charge a warm-up fee and a deposit of a couple hundred dollars. So, for example, your initial expenses might look like this: application fee - $20, rental unit deposit - $700, pet deposit - $150, electricity fees and deposit - $200.
Moving
Once you've found a place, decide whether you and a few friends can move your belongings by renting a truck or if you need professional movers. You might consider moving the small items yourself but hiring professional movers for your heaviest furniture. Prices for renting a truck could be as low as $19.99 plus mileage for a small, in-town move to more than $2,000 for a cross-country one, according to U-Haul. If you choose professional movers, obtain three estimates. Professional movers tend to charge by weight and distance; moving enough goods for a one-bedroom apartment across the country might cost $2,000, according to MyMovingReviews.
Rent and Other Monthly Fees
Rent will be your largest monthly cost and will vary depending upon your metropolitan area and neighborhood. For example, the median cost to rent an apartment in Wheeling, West Virginia, in 2012 was $522, whereas it was $1,560 in San Jose, California, according to ProximityOne. You can gain an idea of the average cost in any particular neighborhood by checking apartment listings on websites such as Zillow and Craigslist. Some apartments also charge fees for water and garbage.
Other Tips
When calculating the costs, don't forget to include the cost of transportation to your job, which may be more or less than from your parents' home. If all these costs seem too expensive, you may consider one or more roommates, which allow you to divide the cost of deposits and rent.