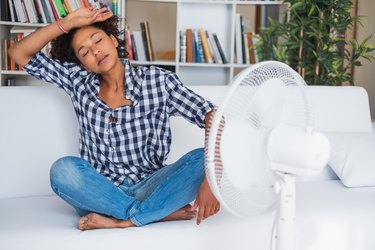 As if 2020 wasn't all that it already is, this is also shaping up to be one of the hottest years on record. Temperatures across the United States are scorching, and federal government policy could be making it worse: Subsidies for utility companies included in the March CARES Act are set to expire or have already done so, which means utility companies may begin turning off electricity for nonpayment as the summer heat reaches its zenith.
NPR recently spoke with Americans who are worried about paying their bills once relief and forgiveness programs run out. Some cannot turn off their air conditioning because of underlying health issues, while others are already pushing their thriftiness to the limit, relying on blackout curtains and clotheslines to cut down on waste and use. One 2015 survey found that about one-third of U.S. households had trouble paying for utilities, and that was before today's pandemic-driven economic crisis.
While this is largely a policy issue and worth a call to your elected officials, if you're worried about your own bills, there are things you can do on an individual level to reduce your expenditures. The Citizens Utility Board, an Illinois-based watchdog group, offers its own suggestions for shaving down your electric bill. Many of its tips relate to maintaining efficiency, whether it's by checking your home's insulation or cleaning vents and air conditioning filters on schedule. Apartment-dwellers may have less control over their environments than homeowners, but no matter what, every bit of effort helps somewhere down the line.