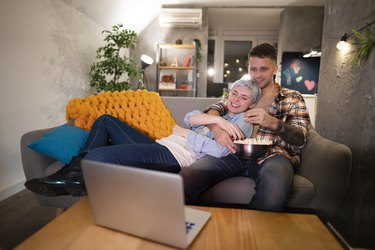 Summer should be a season of blockbuster tentpoles and overpriced snacks at the concession stand, but thanks to COVID-19, movie theaters across the nation are staying locked up and quiet this year. That's a big problem both for the theaters themselves and the film industry as a whole. Both are trying to figure out distribution deals that allow both of them to survive. A startling announcement (in industry terms) may have just saved cinema for us all.
This week, the production company Universal and the theater chain AMC broke the news that rather than waiting months in between theatrical releases and premium video-on-demand options, consumers will soon be able to watch certain new releases less than three weeks after they make their debut. Universal, which is responsible for titles like Jurassic World and the Fast & Furious franchise, can now offer its catalog in as little as 17 days following a release in cinemas.
The big flashpoint which may have hastened this development came this spring, with the premium VOD release of Trolls World Tour in March. Instead of piling families into potentially dangerous movie theaters, Universal allowed them to stream the film at home during a 48-hour window for about $20. Whether this will hold for major releases or if it's more likely to prop up mid-budget comedies and indie productions, it's welcome news for cinephiles and popcorn-lovers alike. We may not be able to have the summer of our dreams, but at least we can distract ourselves with the stories we want.