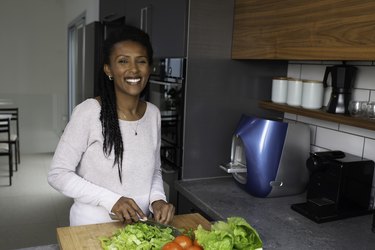 Time is one of those things that we just never seem to have enough of. Meal kit delivery services have come to the rescue in the millennium. Blue Apron and HelloFresh are two of the most well-known. Sign up and they'll ship you a detailed recipe card and every fresh ingredient you'll need for a good, homecooked meal.
Both services require that you open an account on their websites, and you'll be provided with numerous choices from there.
HelloFresh will want to know whether you want to focus on meats or vegetables, and whether you're cooking for a family. Your choices are to feed two or to feed four. You must select weekly meal options, and HelloFresh says you can choose from at least 27 of them that rotate from week to week. Everything's labeled when you receive it, including a special tag for meals that have received favorable reviews and one for recipes that are a bit more intricate.
You'll only have about six different meals to choose from each week from Blue Apron, although some meal plans do offer more of a choice. You can select two, three or four recipes per week. As with HelloFresh meals, they vary by week. Both services are known for long delivery times. HelloFresh will accommodate special shipping requirements, but Blue Apron won't. Both services allow you to choose the day you want delivery.
So everything has now been delivered to your door. Now what? That depends on whether you're a kitchen novice or a bit of a pro.
Blue Apron's reviews indicate that it's more appropriate if you're approaching pro status, or even if you just want to. These recipes tend to be a bit more challenging than those that HelloFresh provides, and they suggest new and different techniques. HelloFresh's instructions are more detailed but simpler, so they might be more appropriate for novices, but you can upgrade to "gourmet" recipes if you like. The Blue Apron meal instructions add pictures and nutritional information.
For Those With Dietary Restrictions
HelloFresh provides numerous dietary choices in addition to meat or vegetarian options, including low-calorie, gluten-free and paleo menus. The low-calorie meals are about 650 calories per serving. Blue Apron goes one step further if you're counting calories. It offers 600-calories-or-less meals, and it's teamed up with Weight Watchers to offer recipes that align with the Weight Watchers Freestyle plan.
Both meal kit delivery services package their ingredients in immense facilities, so cross-contamination is possible if food allergies are your concern. Neither service guarantees that its recipes are 100 percent allergen-free.
Pricing and Cancellation Policies
HelloFresh and Blue Apron are both pretty much in the same ballpark when it comes to cost. The price-per-serving drops as you're cooking for more people, but that tends to apply if you're squeezing time out of your day to visit the grocery store, too. They each run about ​$7.50 a serving​ for a family of four. Blue Apron is a bit more expensive than HelloFresh if you're only cooking for two.
HelloFresh will typically tack on an ​$8 delivery fee​, while most of Blue Apron's menu options include free shipping, with the exception of the two meals/two person plan. HelloFresh wins in the "special discounts and deals" category, and some of these one-time-only offers also involve free shipping.
Blue Apron makes it a bit more difficult if you want to cancel your subscription. You have to reach out by email or on their website for instructions as to how to do so. You can cancel your HelloFresh subscription without charge or much fuss if you do so at least five days before your next delivery date, and HelloFresh gives you the option to simply pause it for a while as well. Both services allow you to skip a week's delivery if necessary, but you must do so before the kit has shipped.