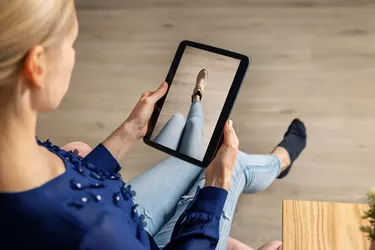 At one time, if you needed a new outfit, you had to head to the store to try things on. But augmented reality stands to change all that. Using AR filters, you can try on various items from the comfort of your home, but there are some challenges that this new technology brings.
If you spend any time on social media, you've no doubt seen AR technology on your favorite platforms. Snapchat and Instagram AR filters have especially become popular in recent years, with 100 million consumers using augmented reality filters in 2021. Built-in tools let you upload videos with these filters to your Instagram stories or share as Snaps on Snapchat.
Consumers aren't just using the technology to change their physical appearance, though. A variety of retailers now allow customers to try on products virtually, with those products superimposed on their face or body. Everything, from eyeglasses to shoes to bathing suits, is now part of this virtual experience. Being able to alter your appearance might seem fun, but there's a psychological component to these apps that can be harmful.
Filters and Body Dysmorphia
As social media users have gravitated toward face filters and animations in recent years, there has been a shift. Cosmetic surgeons have seen more social media-inspired plastic surgery requests, with customers specifically asking for changes that will improve their selfies.
The phenomenon is so prevalent, some experts have dubbed it "Snapchat dysmorphia." Even when social media users know a photo is the result of a filter, they continue to compare themselves. Influencers are well-known for using and even recommending beauty filters, which introduces social media users to standards of perfection from a young age.
AR Effects and Virtual Try-On
The fitting room experience has long brought self-image issues. Even as retailers use known lighting tricks to alter shoppers' physical appearance, consumers often find themselves critiquing the way they look in those full-length mirrors.
This is unlikely to change when the real-life experience of trying on fashion moves online. AR filters are designed to be immersive, but they could also lead a customer to make comparisons to the model pictured wearing the same fashion item. Whether it's a full-body filter or someone is simply trying on a pair of sunglasses, that comparison can take a toll on mental health for some people.
AR Experiences and Customization
One of the most exciting things about AR filters and home try-on is that it allows brands to create customized products for shoppers. The technology could, for instance, grab your measurements and use them to create a pair of jeans or a bathing suit that fits you.
But with this customization comes additional self-esteem dangers. Media messaging already gives people an unrealistic picture of the ideal body, and having these measurements taken in real-time using virtual reality could increase those issues.
Choosing the Right Filters
The best thing about AR filters is that you can choose. If the dog filter on TikTok makes you smile, while face-slimming apps make you anxious, steer away from those face-slimming apps and focus on having fun.
You'll also find, with try-on apps, that there are varying degrees of customization. With MaxFactor's MyMakeupArtist, for instance, you're asked questions about the look you prefer before the virtual beauty expert makes recommendations. This limits the pressure to look like everyone else, letting you customize the experience to your personal preferences.
Social media filters and virtual try-on can be fun and convenient if used properly. But it's important to be aware of the toll they can take on your self-esteem. As long as you're aware of these risks, you can find a way to enjoy these tools without experiencing their downsides.