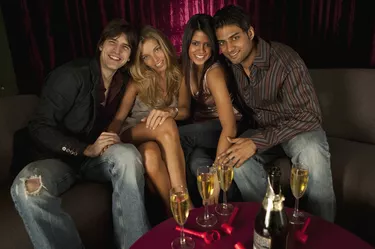 If you have decided to open a nightclub, you will need attractive lighting and an appealing floor space to encourage people to get up and dance. There are several design options you can choose from to create a nightclub space that is original and eye-catching. Coming up with a clear plan for how you want to decorate your nightclub, as well as choosing themes that are easy to incorporate into the space, will help you stay within your budget while creating one of the trendiest nightlife spots in your city.
Jungle Theme
Create an exotic environment with a jungle theme for the interior space of your nightclub. Special light machines and stencils can project images of cheetah, leopard or zebra animal print on the walls and bring more attention to the suede and faux fur furniture you have chosen for the nightclub. You can also choose chaises, tables and bar stools that include animal print, like stool cushions in zebra print or a chaise with a leopard print base. If these elements are in neutral hues like brown, tan or black, a pop of color in the form of elaborate plant or tropical flower arrangements in bright green or vivid shades of pink, purple or yellow can be potted and placed in the corners of the nightclub space, or hung from the ceiling, so that the dance floor is free of clutter.
Asian Theme
You can give your patrons the feeling that they are taking a vacation to Asia when they step foot in your establishment by decorating the space in colors like red, which represents money, luck and happiness in Asian culture. Using accent colors like silver for the wall paneling, a hue that denotes wealth and romance according to Asian tradition, will make the nightclub's interior space look extravagant. The five elements of Chinese philosophy can also be incorporated into the nightclub design. For example, decorative water fountains or a water wall, are sure to catch the eye of club-goers. Water represents fluidity and peacefulness. Dark wood tables with gold accents, as well as walls painted with images of cherry blossoms or dragons will complete the look, as wood represents a person's impulsive nature and gold makes the tables look more opulent.
Chic, Modern Theme
The minimalist, modern theme is a chic choice for a nightclub. You can choose furniture and lighting pieces that immediately stand out, while leaving plenty of room for people to relax at the bar or dance on a floor made of quality, dark or medium brown wood. For instance, an over-sized chair or chaise where guests can take pictures could become a well-known fixture in the nightclub, as well as tables or bar counters made of glass or marble. These slightly understated yet elegant elements are noticeable without being opulent, and give your nightclub an air of sophistication.
Color-Coordinated Theme
If you have a particular color or color pairing in mind for your nightclub, you could essentially use this as one of the ways to market the location. For instance, give your nightclub a black and white theme by painting black and white designs on the walls, and only purchasing furniture in these two shades. Bar counters, table tops and doors can boast a gray marble or granite design for added texture. If you prefer brighter shades like pink or purple, creating an interior space in different variations of the same hue will give the nightclub a look that is both uniform and eclectic. Painting the walls or paneling in your accent color, or creating signage in the hue you have chosen will further emphasize the theme.